Debunking the NIL Stigmas
Brittany Zion | Jan 11, 2023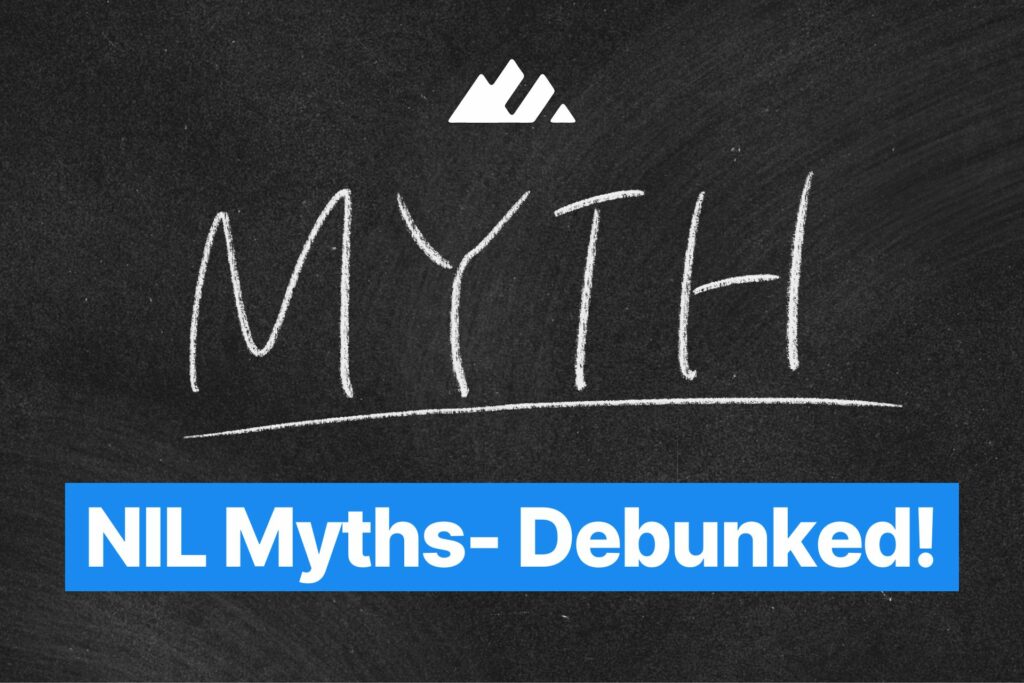 Name, image, and likeness (NIL) refers to the legal right of an individual to control the use of their name, image, and likeness in commercial contexts. In recent years, there has been a lot of discussion surrounding the issue of NIL, particularly in the context of collegiate athletics. Though the ability for athletes to compensate off their name, image, and likeness is only 18 months old, the landscape has seen plenty of change in that time.
Today, we'll help you discern the difference between some common misconceptions and facts and build a better understanding of what's happening in the world of NIL and what it could mean for you. Here are four of the most common myths:
Myth #1: Only the top 1% of athletes get NIL deals
It's not hard to understand the origin of this one since some of the biggest names in college sports were first-movers in monetizing their NIL. University of Miami quarterback D'Eriq King was one of the first to ink an NIL deal, signing with College Hunks Hauling Junk & Moving on July 1, 2021, at 12:01am – a minute after the policy was in effect. Bryce Young, Myles Brennan, and Quinn Ewers all followed suit, and all fit in the category of top recruited athletes in their sport who are profiting off their NIL.
But that doesn't mean NIL is only for the top one percent. Take a look at Haley and Hanna Cavinder. The two were twin guards for Fresno State's women's basketball team before transferring to Miami for the 2022-23 season. In three seasons of college basketball at Fresno, the Cavinder twins had 3,040 points, 1,009 rebounds, 722 assists, five appearances on various all-league teams, and one conference player of the year award between them.
The pair were specifically selected for an NIL opportunity with Boost Mobile, a company looking to highlight female athletes who were not the top prospects. While both sisters were well-known at Fresno State, they were not top targets for the WNBA due to the small school's lack of pedigree. It didn't impact their NIL earning potential in the slightest. According to Forbes, the Cavinder twins are nearing $2M in NIL deals.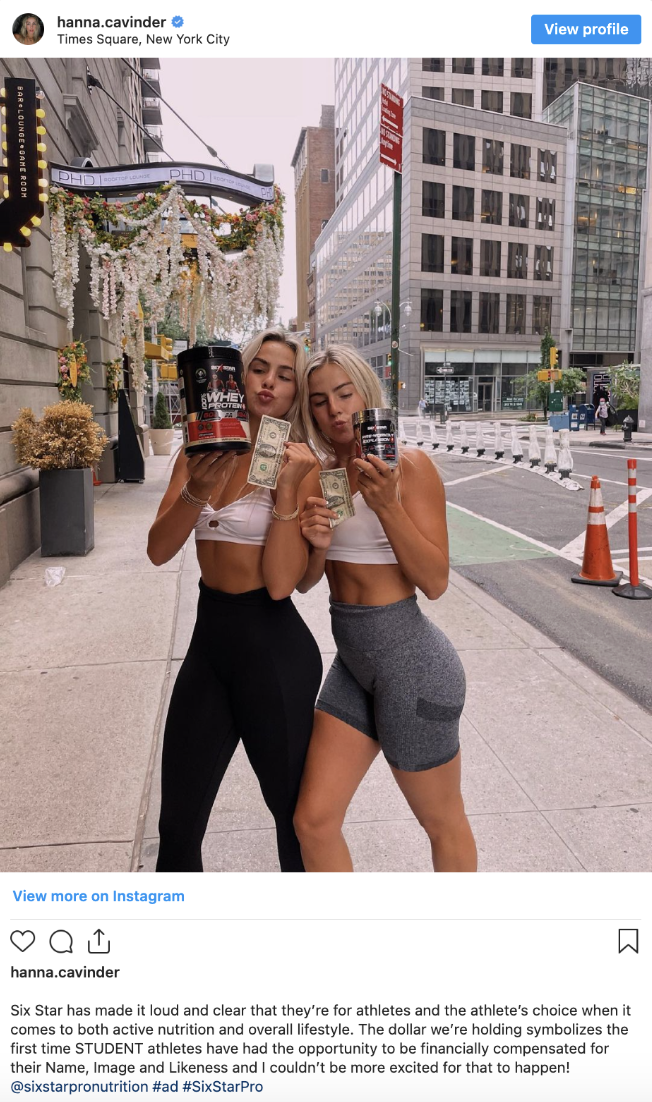 Additionally, other talented athletes across sports and divisions have been able to monetize their NIL, even with a more modest social media following. Ethan Neil, a Division I men's tennis player at Creighton, signed three NIL deals with national brands with a combined social media following of just over 1,400. Or take Perrion McClinton, an NAIA wide receiver at Indiana Wesleyan University who's inked two national NIL brand partnerships of his own with under 5,000 Instagram followers.
The key to creating a roadmap for success is to stay educated and up-to-date on potential opportunities, which can drastically improve the ability of student-athletes to monetize their NIL. The team at Eccker Sports has developed numerous resources and tools to help guide athletes on their NIL journey, all of which can be found at EcckerSports.com.
Myth #2: Football and basketball make up the majority of NIL deals
While football and basketball certainly provide opportunities for NIL monetization, they don't make up the majority of student-athlete deals.
Excluding football, women's sports athletes completed 52.8% of total NIL activities – more than their male counterparts – and women's basketball, volleyball, and softball took three of the top five spots.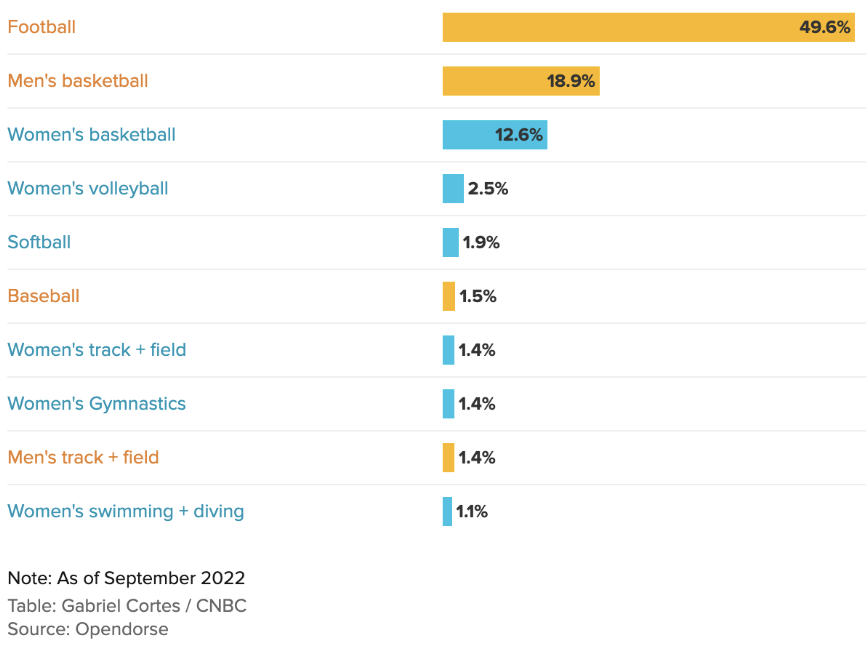 Those statistics are significant because while there is no way to have NIL opportunities evenly distributed among all athletes and all sports, it's evident that far more athletes are taking advantage of NIL from all levels than initially assumed, and it's not limited to just football and basketball. 
Myth #3: Male athletes are the primary target for NIL deals
This is undisputedly false. Interestingly, women's sports athletes are uniquely positioned to be top earners, already thriving in the NIL landscape. Duke's Emily Cole and Division III Wesleyan soccer player Andrea Chiappetti are two examples of female collegiate athletes setting the pace with NIL deals.
For many female athletes, it comes down to engagement and connection. Women are typically more adept at cultivating genuine relationships with their online followers, and that is incredibly enticing for brands looking to connect with their audience.
From Paige Bueckers to South Carolina's Aliyah Boston, women's basketball standouts continue to leverage substantial social media acumen to optimize their NIL potential and are top targets for NIL brand partnerships.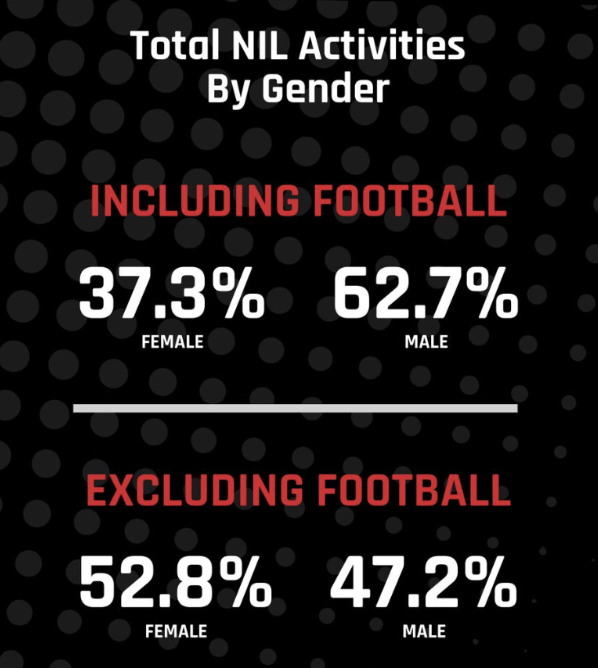 Myth #4: NIL is taking advantage of student-athletes
In early discussions about NIL, there were questions about fairness, whether it's truly fair for some athletes to make money while others may not, but there has rarely been such fairness in college athletics. In Division I athletics, less than 60% of athletes get scholarship money, and most sports have strict scholarship restrictions that do not allow the number of scholarships to approach roster limits.
Since NIL became policy, more student-athletes have had a fair opportunity to be compensated for their name, image, and likeness, particularly given the significant revenue that they help generate for their schools and the NCAA.
In the past, limiting athletes always benefited the chosen few schools and meant that the highest-spending schools were in a better position to attract top recruits than the lesser-spending schools. NIL helps level that very uneven playing field and open more opportunities for student-athletes who might not otherwise have had them – including female athletes and those in sports other than football and basketball.
It is important to note that student-athletes and their families need to remain fully aware of the terms of their NIL agreements and to be well-informed about their rights and options with regard to NIL, seeking appropriate legal and financial guidance when necessary. (Eccker Sports and its team of experts can help with that.)
In truth, while there are certainly valid concerns surrounding the issue of NIL, many of the myths surrounding it are unfounded. Allowing college athletes to profit from their NIL does not necessarily mean the end of college sports or the abolition of amateurism. It simply allows athletes to be fairly compensated for the use of their name, image, and likeness and offers more opportunities to student-athletes.