The Eccker 10 – Alexis Kapales
Tyler Langford | Mar 21, 2023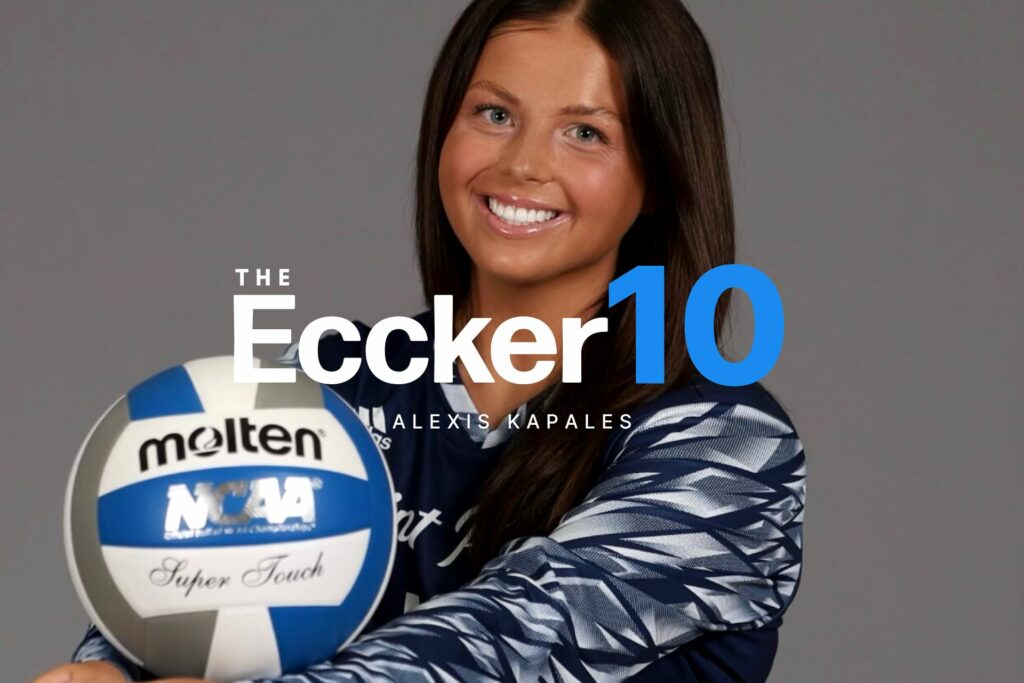 NIL Village is teaming up with Eccker Sports to showcase the college athletes that you know and love. Enjoy our athlete interviews, then visit each athlete's profile at NILVillage so that you can invest in their success!
Jersey City, Jew Jersey is a city known for its grit. This grit is exemplified by Saint Peter's Junior Volleyball player Alexis Kapales. Alexis has spent much of her college career grinding in the JUCO ranks, focused on making the most of her opportunities and finding a Division 1 opportunity. She landed in Jersey City. Since finding herself in New Jersey, she's made the most of her opportunity and has thrived in her new surroundings. She's used NIL for good, and represents a new wave of college athletes who are leveraging their talents to better their community. Eccker Sports caught up with Alexis to discuss her path to Saint Peter's, her mental health and volleyball journeys, and more.
10 Questions
Tyler: What is your greatest memory as an athlete?
Alexis: I loved junior college (JUCO) so much and worked so hard at JUCO to get to the Division 1 Level that when I committed to a Division 1 school, it was really big for me. I feel like a lot of people don't understand the grind that JUCO really is. For me, it was an amazing experience. I met some amazing people and coaches, and I was in a really demanding program so I was set up really well for the Division 1 level because we were already training like I do now that I'm D1. JUCO overall was great for me, and being able to end up going Division 1 was really meaningful.
Tyler: What is the biggest challenge you've faced as an athlete and how were you able to work past it?
Alexis: Throughout this whole time, it's been my mental health. I think sports, especially in college, are very time consuming and for me, it was my whole identity for awhile. Everything I did and the way I felt was based on volleyball so I struggled with my mental health for a long time. It's definitely something that has gotten a lot better as time has gone on, but it's been my biggest struggle as an athlete.
Tyler: Do you have any unique or hidden talents?
Alexis: I'm a little bit ambidextrous. I tell people I'm ambidextrous because I can kind of write with my left hand but don't test me on it.
Tyler: What was your first NIL deal?
Alexis: I did a deal with a company that does a merch line, but they also set up meetings with athletes and fans. It's been cool to be able to help people through that deal.
"I wanted to be more genuine with my NIL. I only pick brands that I actually use and love or organizations that I personally really like. Things that I've used or things that appeal to me as a person make it easy for me to put my all into the deal."
Tyler: How has NIL impacted your experience as an athlete?
Alexis: It's completely switched the game. I remember the day it passed and we were able to make money. I know we get paid through scholarships but sports take up a ton of time and athletes don't get to work, so for me it was a great way to make money but also to work with some of my favorite brands. I feel like it really connected the sports world with the athletes themselves. I've had a lot of opportunities to interact with people through NIL, which has been really cool.
Tyler: How do you determine which brands to partner with?
Alexis: I knew going into the process that I had seen a lot of people on Tik Tok and social media platforms take any brand deal just for the money, and that I wanted to be more genuine with my NIL. I only pick brands that I actually use and love or organizations that I personally really like. Things that I've used or things that appeal to me as a person make it easy for me to put my all into the deal. I've gotten plenty of companies that want me to promote something but I always make sure to try it and see if I like it before I'll promote anything.
I don't think I realized how many people look up to you when you're an athlete until I got to the Division 1 level so I want to make sure that the things I promote are real and represent me well.
Tyler: How do you educate yourself on NIL?
Alexis: I really read through everything I could on NIL. Before I do deals, I talk to our compliance lady because I know that rules are very edgy and I don't want to make a mistake. I like to talk to people above me like compliance and coaches so I can understand what NIL really is, and what the rules around it are because they're so strict. I'm constantly learning and gaining knowledge from people who know more than I do.
Tyler: How has education played a role in your NIL experience?
Alexis: It's definitely helped me to be able to pick better NIL deals and work around all of the emails I get from brands. At first, it was so exciting because I was just getting so many offers, but I quickly decided I needed to start reading up on the rules so I could differentiate between the deals that are legitimate and the ones that aren't. I make sure I ask the right questions and get the information I need so I can get the best deals possible for me.
Tyler: If you could change one thing about NIL and how it's worked so far, what would it be?
Alexis: The only thing I would change would be the punishment for someone who violates an NIL rule because loss of eligibility for making a mistake when you don't know the rules is a strict punishment. I've had a great experience with NIL though, so it's hard to think of something I'd want to change.
Tyler: What piece of advice would you give to high school athletes as they start their NIL journeys?
Alexis: I would tell them to really take advantage of the ability to make so much money in the college world. I wish it had been a thing for longer but definitely take advantage of the opportunities you have. Most businesses are open to working with college athletes so go make as much money as you can and make sure you're following the rules.