The Eccker 10 – Aryana Purifoy
Torrey Prukop | Aug 25, 2023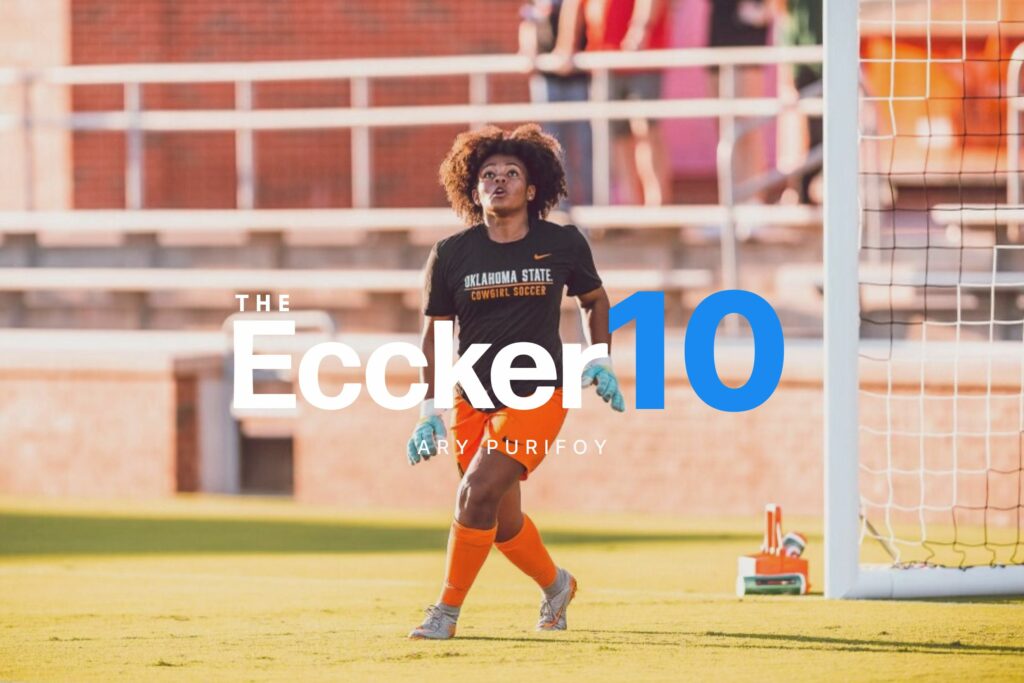 Senior Oklahoma State soccer star Aryana Purifoy has been involved in the name, image, and likeness world in many ways. From her internship working with the Bedford Agency to participating in deals herself, she has seen firsthand how NIL has become a big part of the game throughout her years at OSU. Eccker Sports sat down with Aryana to discuss how her high school career led to her playing at a top Division 1 school, what the NIL landscape looks like from an athlete's perspective, and learn about her tips for athletes beginning their NIL journeys, and much more.
10 Questions
Torrey: What is your greatest memory as an athlete?
Aryana: I would say overall just being the first person in my family to go to college and get a degree through being an athlete. I've put a lot of time into soccer throughout high school and college and seeing the opportunities that have come from it has been really rewarding. It has allowed me to almost make a legacy for my family and me.
Torrey: What is the biggest challenge you've faced as an athlete and how were you able to work past it?
Aryana: With me being a senior this year I think a lot of the younger girls are looking up to us older teammates to be a mentor. Just trying to help them develop their game more than anything has been challenging because for the past three years, I've had older teammates to look up to but now I have to sort of step into that leadership role.
Torrey: Do you have any unique or hidden talents?
Aryana: It's kind of corny and nerdy, but in high school I used to do a lot of Rubik's cubes. I think I'm a little rusty now, but I'm pretty sure I could still solve one quickly.
Torrey: What was your first NIL deal?
Aryana: It was through OSU and Brand Squad. The whole thing is with athletes and we sell Shersey's and get a percentage of the sales. It's basically a jersey with our last name and number on the back and people can purchase them on the OSU website or at the games. They're going to start having a whole stand for it.
"With NIL we are basically selling ourselves, we are our own brand."
Torrey: How has NIL impacted your experience as an athlete?
Aryana: Well, I would say NIL more than anything has been a learning curve. The more we talk about it and learn more about it, I think the more everybody is kind of getting comfortable with it. Having mentors like Bryan and the Bedford team and Eccker Sports being there to educate us and make sure we're doing the right deal as athletes has been super helpful.
Torrey: How do you determine which brands to partner with?
Aryana: I look for brands that represent what I am passionate about. I ask myself "can I see myself wearing or selling this product to other people?" When it comes to deals, I have to make sure I'm comfortable with what the brands represent and the relationship I have with them.
Torrey: How do you educate yourself on NIL?
Aryana: During my internship with the Bedford Agency we did a lot of work with the NIL program so I was able to see what it looked like from the recruiting process. Oklahoma State has also started doing weekly NIL summits where they bring someone that has a high knowledge of NIL deals so all of us athletes can get educated on what that process is like. This is helpful because we've had some issues where athletes are just signing whatever and not making the right deal. The more we [athletes] learn about it, the more comfortable we'll feel about signing deals and making sure it's the right investment for us.
Torrey: How has education played a role in your NIL experience?
Aryana: I have mixed emotions about it. I think now with being more educated I'm feeling a lot more comfortable with facilitating deals for myself. Like I said, I have to make sure I'm passionate about what the company represents or who I'm partnering with represents. I think basic knowledge of what NIL is for all of us athletes is super beneficial because a lot of people still aren't even aware of what it means.
Torrey: If you could change one thing about NIL and how it's worked so far, what would it be?
Aryana: Probably the contract process. I've heard multiple stories, and even know some players here that have signed things that they are not even aware of what it means. I think it's really important for athletes to have a relationship with people like you guys to help understand what it is we are signing. For young athletes now most of us don't even understand some of the wording in the contracts. It would be nice if companies could keep the contracts simple.
Torrey: What piece of advice would you give to high school athletes as they start their NIL journeys?
Aryana: The advice I'd give is to build a good brand young, you never know who's watching. Focus on your game and the rest will come with it. Understand you are basically selling yourself. I think athletes are trying to look for deals when the don't come to them. NIL is going to get bigger than everybody thinks, but if you stay focused on your game and your brand, the deals will come.