The Eccker 10 – Ethan Neil
Tyler Langford | Dec 20, 2022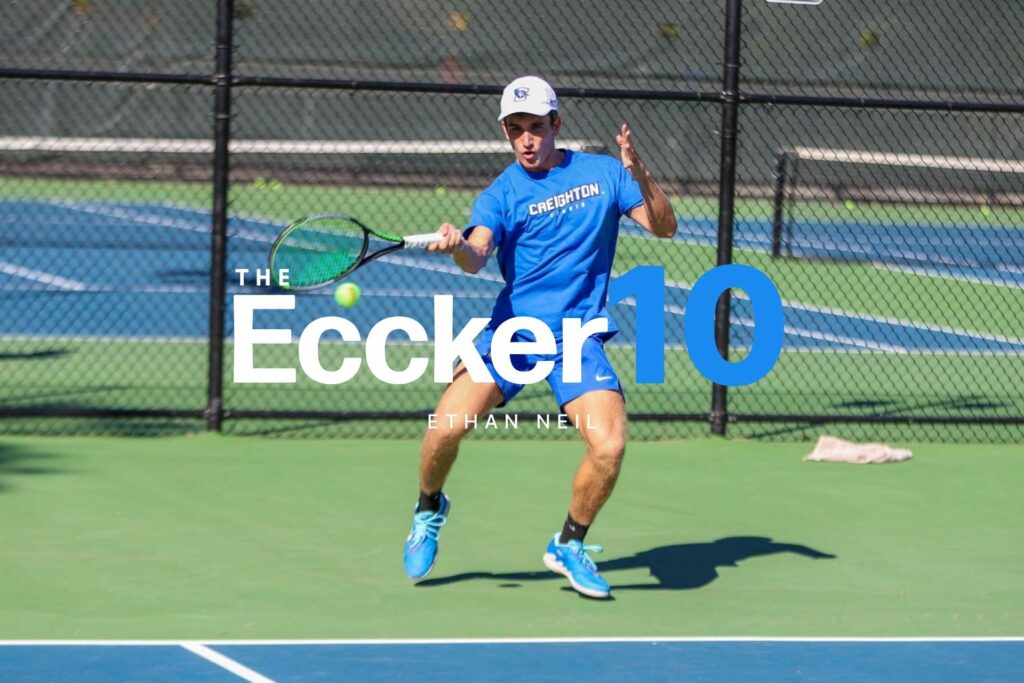 One sport many probably haven't heard much about in the NIL space is tennis. Tennis is a massive revenue-earning sport on the international stage, but when it comes to NIL and college athletics, it is seemingly one of many sports that has taken a backseat to some of the major revenue-earning sports such as football and basketball.
While tennis may not be making headlines for massive NIL deals, NCAA tennis athletes are at the forefront of the NIL discussion, and many have taken advantage of their opportunities by using social media to build their personal brand before partnering with potential sponsors. One of these trailblazing athletes is Creighton University sophomore standout, Ethan Neil. Neil is a three-time Nebraska state champion and has found success in NIL by curating his online brand and finding unique companies who have similar values to him to partner with. Eccker Sports was lucky enough to catch up with Ethan and talk about his dominant high school career, learn about his tips for high school athletes beginning their NIL journeys, and much more.
10 Questions
Tyler: What is your greatest memory as an athlete?
Ethan: I would say it was definitely winning state three times throughout my high school career. Senior year was a great experience, I was with all my best friends and there was a huge crowd watching. That's something I'll always have good memories of because it was a pretty big accomplishment, and it's something not too many people in Nebraska have done.
Tyler: What is the biggest challenge you've faced as an athlete and how were you able to work past it?
Ethan: I think tennis is interesting because it has so many ups and downs. Sometimes your strokes just aren't working for certain periods of time, and you have to be able to just stick with it mentally. Tennis is definitely a mental challenge. I've been able to work through that by continuing to get after it every day, and by trusting in my training and making sure I take care of myself so I don't get burned out.
Tyler: Do you have any unique or hidden talents?
Ethan: Good question, I can juggle two rackets and a tennis ball. It would definitely be juggling.
Tyler: What was your first NIL deal?
Ethan: I did a couple of small things to start off. I did one thing with a company that a lot of athletes partnered with, and they sent me a small payment along with some other stuff for putting out a tweet. I would say the main one I'm doing now with Sigrún, a tennis apparel company, is my first real one. I've been able to connect with them and have direct communication, and it's worked out great.
"I think there's a narrative that NIL is geared towards people who have a ton of followers and big brands, and my accounts aren't nearly as big as many people's, so it's important to promote athletes that aren't represented as often."
Tyler: How has NIL impacted your experience as an athlete?
Ethan: NIL has been a really great way for athletes to get to represent a brand in a way that they've never been able to before. It's cool to see athletes be able to work with brands they actually care about while also being able to get paid for doing so.
Tyler: How do you determine which brands to partner with?
Ethan: I definitely like to look at their mission statement and figure out what the company is actually about. A great example is a company I'm working with right now. They had a pretty unique mission statement and they're all about sustainability, and performance and they add a really unique style to their products, which most tennis brands don't do. I think they're different in a good way than the traditional products and companies in the tennis space, and that's really appealing to me. Overall, I definitely like to look for unique companies and figure out what audience they appeal to as well as what their focus and mission as a company are.
Tyler: How do you educate yourself on NIL?
Ethan: Creighton has done a really good job handling a lot of that for me. We've had multiple compliance meetings and I get a lot of emails from Creighton that just help me understand how to disclose things, how to look for deals, and how to represent my own personal brand.
Tyler: How has education played a role in your NIL experience?
Ethan: It's definitely helped me feel more comfortable accepting deals and advertising myself. It also helps me to stay eligible…if I didn't have all this information, I'd probably make a mistake. It definitely makes me far more comfortable doing business with these companies.
Tyler: If you could change one thing about NIL and how it's worked so far, what would it be?
Ethan: I think there's a narrative that NIL is geared towards people who have a ton of followers and big brands, and my accounts aren't nearly as big as many people's, so it's important to promote athletes that aren't represented as often. I think that companies such as Opendorse could do a lot to open some avenues for athletes and help smaller athletes and brands expand.
Tyler: What piece of advice would you give to high school athletes as they start their NIL journeys?
Ethan: It's definitely important to put a positive image of yourself on the internet. Don't post anything that might be detrimental to you in the future. Keep positive on social media, post-sports-related stuff, and try to avoid posting random pictures that don't benefit your brand.