The Eccker 10 – Griffin Shaffer
Tyler Langford | Nov 15, 2022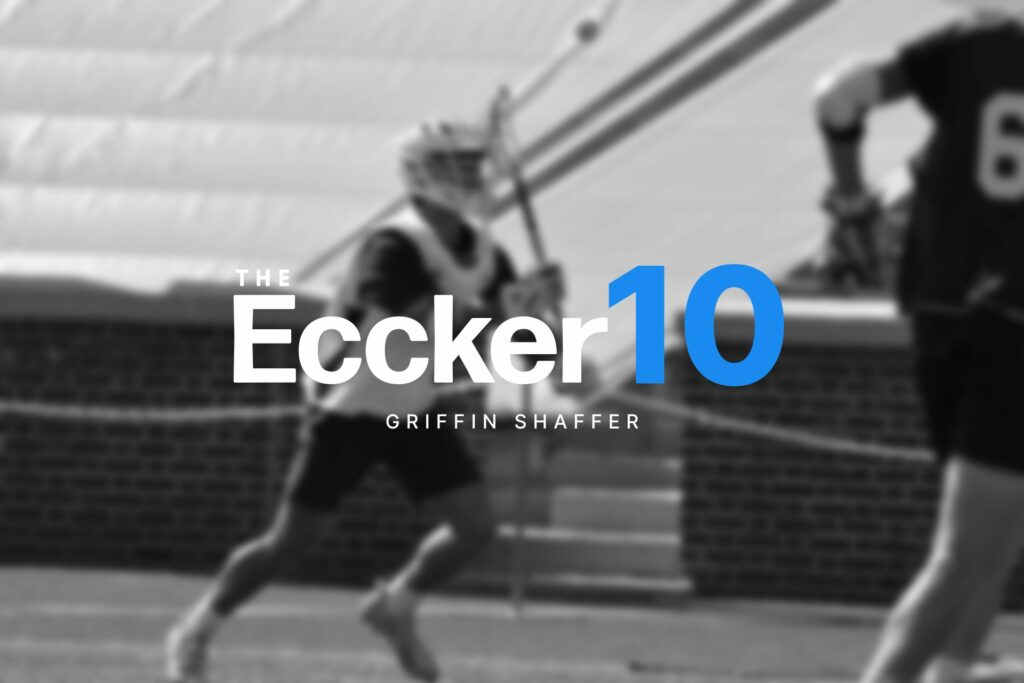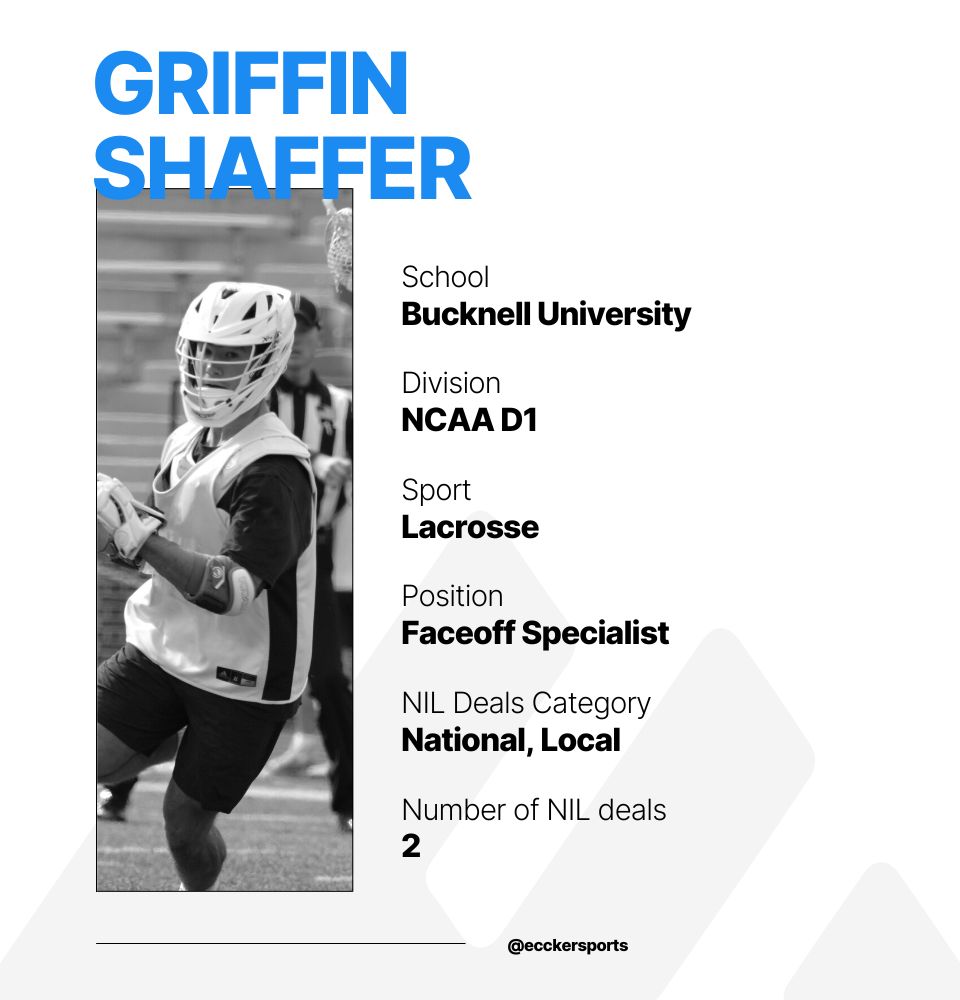 Photo Courtesy: Bucknell Athletics  IG: @griffshaff
The paradigm shift that NIL has caused in college sports is undeniable. It has impacted countless athletes who represent nearly every sport imaginable. One of the most impacted sports, however, is one you may not expect: lacrosse.
The NCAA tabbed lacrosse as the fastest growing sport in the country, with notable investments in the sport from the youth levels to the now professional levels resulting in more participation, visibility, and opportunities for athletes who have flourished as the game has grown. As NIL has entered the universe of college and high school sports, many lacrosse athletes have been presented with NIL opportunities that would have seemed inconceivable when NIL was passed, and even more so 15 years ago when lacrosse began its rise to the top. On this edition of The Eccker 10, Eccker Sports had the privilege of catching up with Griffin Shaffer, a standout freshman lacrosse player at Bucknell, one of the top programs in the country. Shaffer hails from Texas, a state known for its football, and one without a major competitive lacrosse team. He provided us with insights on his experience playing football and lacrosse in Texas, working through hardships, maximizing his NIL potential through education, and more.
10 Questions
Tyler: What is your greatest memory as an athlete?
Griffin: My greatest memory as an athlete was also one of my worst memories, but it's definitely the most memorable moment which I guess makes it the greatest. Last year in football, we played at the football stadium at the University of Texas. It's one of those memories and experiences that will last a lifetime. It was my last football game ever and it was played in the stadium of the team I grew up being a fan of. Just being a Longhorns fan and getting to finish my high school football career there was fantastic.
On more of a lacrosse note, I would say it was traveling the East Coast so much and making new friendships. Being from Texas, there isn't much competitive lacrosse, so whenever I was traveling the East Coast in the summer, I made a ton of friendships and met many people that I have relationships with that will last a lifetime.
Tyler: What is the biggest challenge you've faced as an athlete and how were you able to work past it?
Griffin: This kind of builds off my last answer, but after that game, I had torn my labrum. I was just trying to get through my Spring season. I had just finished fall football season and I had the torn labrum, but I had my senior year of lacrosse left. I tried to play through the labrum tear, but about a week before the first game I landed on it again and it popped out of the socket. At that point I figured I needed surgery on it, so two weeks later I had the surgery and I missed my entire senior lacrosse season.
Coming into college, I hadn't played lacrosse in essentially a year and a half, which was tough both mentally and physically. I lost a ton of weight, lost muscle mass, and hadn't played lacrosse in awhile. It was definitely a huge challenge for me coming off that injury. I always say that I'll remember for a lifetime that I missed my senior season of lacrosse, which was something I'd dreamed of playing my entire life. But coming off of that, I was able to get through it by using the entire summer for my healing process. I'd go do soft tissue work everyday, go to physical therapy, and I did everything I could to get ready to get back on the field. I used that motivation from the missed spring season to work harder at physical therapy, and while it was a hard process, I'd say it definitely worked out in the end.
"NIL creates opportunities for other types of athletes to profit from their name, image and likeness, and it really equalizes the playing field in college sports because any athlete can profit from their NIL."
Tyler: Do you have any unique or hidden talents?
Griffin: Let's see…I guess you could say something that's different is that I write lefty and do everything else righty. I'm also a relatively good cook. The upperclassmen on campus let us cook at their houses whenever, so my buddies and I will sometimes go over there and cook steaks or whatever else we can.
Tyler: What was your first NIL deal?
Griffin: My first one was with an athletic clothing company's college athlete program. They do shirts, hats, sweatshirts, and stuff along those lines.
Tyler: How has NIL impacted your experience as an athlete?
Griffin: I would definitely say that it's made being an athlete much more valuable. Being a division one lacrosse player isn't on the same national scale as sports like football, where people from all over the country are going to come in and fund them and throw a lot of money around. NIL creates opportunities for other types of athletes to profit from their name, image and likeness, and it really equalizes the playing field in college sports because any athlete can profit from their NIL. It's super nice in the sense that without NIL, I wouldn't be able to get some incentive from promoting that clothing company for example. NIL creates a lot more opportunities for athletes as a whole to profit off their own brand, which is super valuable.
Tyler: How do you determine which brands to partner with?
Griffin: I think it's something I want to represent who I am. The best example is the clothing company I work with. They're a good brand, they have products I'm interested in, and they're heavily involved with dog related charities. I have three dogs at home and I love dogs, so their brand values also represent things that I value. It's just about what the brand is in the sense of who they are, what they stand for, and what the purpose of their products or services are.
Tyler: How do you educate yourself on NIL?
Griffin: Obviously it's still a relatively new thing, but the way I try to keep up with it is through twitter or other NIL related websites. I just try to keep up with what the most recent updates on it are. When it came out last year on July 1st, all these brands were giving everyone deals and some just signed anyone and everyone, which made it hard to keep up with what was good and what was not. I usually try to look for their ambassador program and find the customer service and reach out to them so I can express why I'd be a good fit for their brand. It's more personal and it makes it so that I'm not just another number to them who is applying to get a discount or a free shirt or something like that.
Tyler: How has education played a role in your NIL experience?
Griffin: Obviously brands want the best athletes to represent them. For example, Nike sponsors minimal athletes because they want only the best to be representing them. What I realized with education was that I'll be nothing but a number to some of these brands, but there are some that reach out personally, and I want to represent the brands that catch my attention. After I signed with the clothing brand, they reached out and sent a letter to me thanking me for being part of their brand and welcoming me to the team. I thought that was super valuable in the sense that there was a relationship created there. Having those relationships is extremely valuable not just for NIL, but also just for networking in general.
Tyler: If you could change one thing about NIL and how it's worked so far, what would it be?
Griffin: I wish there was more regulation early on because when you look at the athletes coming out of the gates that signed deals on July first last year, it felt like every athlete and company were striving to find deals that had the most money or the most benefits to it, and there wasn't much regulation. There are companies who had to stop doing NIL deals because they've had too many offers over the last eight months, and too many people are applying for their NIL programs, so they had to shut it down because it got out of control. I think if there had been more initial thought, or if there was more regulation put into NIL, then we wouldn't have such a crazy and unregulated market.
It affects a lot: NIL affects kids' lifestyles. I know there's a quarterback who committed to Tennessee for like 8 million dollars in deals. That's crazy, he's still in high school and he basically committed his life there for all that money. If there was more regulation and restrictions, especially when this thing began, athletes would be able to benefit a lot more and more safely.
Tyler: What piece of advice would you give to high school athletes as they start their NIL journeys?
Griffin: I would say for them to do their research. Obviously NIL is a super cool thing, and all athletes should be involved in it, but I think you shouldn't just jump at the first thing that catches your attention. Do research on the company. What benefits do they give you? What is the opportunity cost, and how much time are you spending on the deal? You want to represent a brand that is worth it. You don't want to represent a brand that is known for a bad history. I want to represent a brand that I'm proud of, one with good intentions and stuff along those lines. I'd definitely say that what's most important is understanding the incentive and the intentions of a company before doing any deal or partnership.