The Eccker 10 – Italie Macchiavello
Blaire Prukop | Nov 14, 2023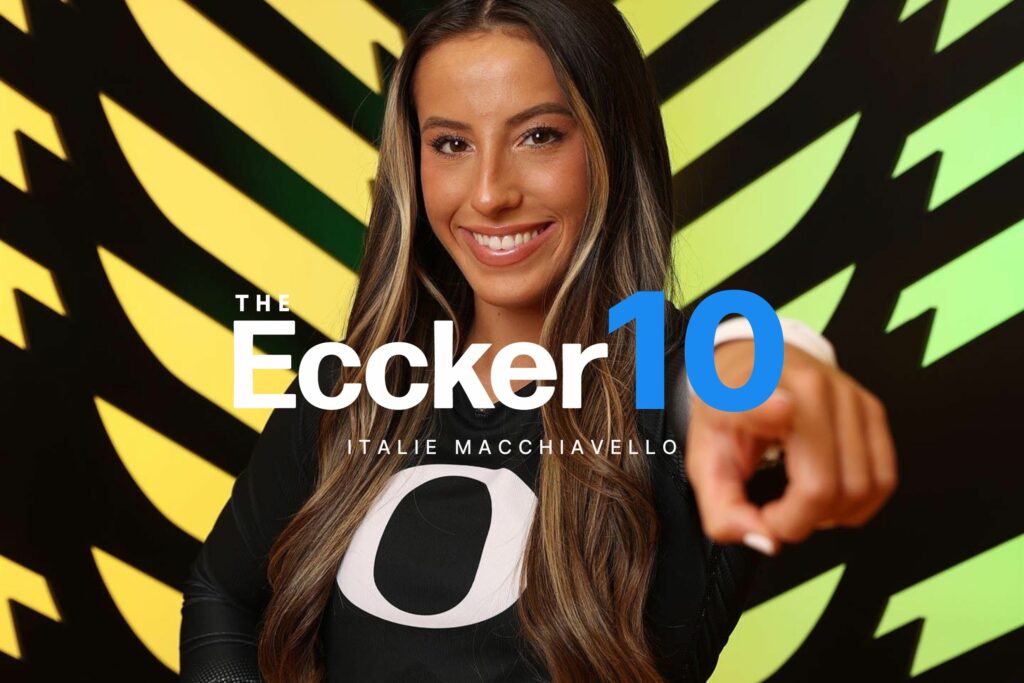 This week's Eccker 10 guest is Italie Macchiavello, an Acrobatics and Tumbling athlete at the University of Oregon's. Macchiavello shares her insights on navigating the evolving landscape of NIL opportunities and challenges, offering a unique perspective on how student-athletes can harness their personal brand. Beyond the business side of college athletics, Macchiavello reflects on her time as a prominent athlete at Oregon, providing a behind-the-scenes glimpse into the dedication and passion that drive her success both on and off the mat.
10 Questions
Blaire: What is your greatest memory as an athlete?
Italie: My greatest memory as an athlete was when my team advanced all the way through to the finals at nationals in 2023. We had worked so hard all season to bump up our rankings, and we only ever lost to the number 1 ranked team. Obviously we had wished to beat them but I was still proud of how far we had come from the last season being ranked number 5 and making it all the way to number 2. It was a great moment when we kept winning our meets and making our way to the final round.
Blaire: What is the biggest challenge you've faced as an athlete and how were you able to work past it?
Italie: One of the biggest challenges I had as an athlete was having to work extra hard to be able to be in a starting line up position. Coming from competitive cheer growing up we always were placed on a team and everyone was used for every part. Going into Acro and Tumbling it's a lot more challenging to get into a starting line up position because we have 45 girls on the team with only 28 athletes who can compete. My first year I didn't compete and it was hard for me to adjust to because I had felt that I was working so hard but still wasn't good enough. I felt like no matter what I did at practice I still couldn't help contribute to my team. I remember asking the coaches what I can keep working on, what I can do better, and what I need to accomplish to be able to contribute. I ended up continuing to try my best and working outside of team practices to improve on my own. When I came back sophomore year I was stronger but still needed some work. I kept pushing myself and practicing at every opportunity I could and eventually halfway through the season I got put in because someone got injured. I knew my spot on the line up wasn't safe, so I kept pushing myself until I finally secured my spot until the end of season. This was challenging for me because I had to work harder than everyone around to make sure I could be seen for what was improved. I am so glad I had to face this as an athlete because it made me a better person, it made me work harder than everyone in the room, and it made me grateful for every opportunity I was given. I still to this day make sure I don't feel secure in my spots because at any time someone can out work me and deserve it more than me. I always make sure I'm working towards the next best thing.
Blaire: Do you have any unique or hidden talents?
Italie: I can do a weird thing with my stomach where my muscles make a weird shape lol.
Blaire: What was your first NIL deal?
Italie: My first NIL deal was with a company called Fan Brander. The brand makes Fan based OtterBox cases and chargers.
"NIL has made me feel seen as a female athlete"
Blaire: How has NIL impacted your experience as an athlete?
Italie: As an athlete NIL has impacted my experience in many different ways. It has helped me expand my name to a much bigger audience and allowed me to learn how to properly brand myself. NIL has made me feel seen as a female athlete. Every opportunity I get or deal I take represents me as a student athlete. I make sure I represent brands honestly and only put out what I also enjoy. One of the biggest ways it has impacted me not only as an athlete but an athlete on the University of Oregon Acro and Tumbling team is getting our sports name out there. Acro and tumbling is very new and not well known. What my teammates and I have done a great job with is posting about our lives as student athletes on the Acro and Tumbling team and since then we have created an ever bigger fan base just through social media. Not only am I doing my best to get our sport seen but I'm intending to pave the way for future athletes. My goal is to get my audience and other audiences to know and learn more about my sport.
Blaire: How do you determine which brands to partner with?
Italie: The brands I chose to partner with are always brands I love or want to try out for myself. When brands reach out to me I make sure it is valid and it is something that not only they can gain from but I can as well. I wouldn't want to partner with a brand I didn't enjoy because then I'm not being honest with myself and others on social media. Most brands I like working with either are clothing brands, athletic wear, and healthy energy drink/food brands. When determining to partner with a brand I make sure I am representing myself well. I like to identify with being a girly college student and a female athlete, hence why I want to work with brands that surround those qualities.
Blaire: How do you educate yourself on NIL?
Italie: All the education I have received on NIL was through my school. The University of Oregon's athletic department does a great job with making sure we are educated on NIL. They also host many events, panels, and more for us athletes to get to know more and how to properly brand ourselves with NIL. Education is not only great for us but they find ways to make everything interactive. Many times I have made smaller deals with brands who Oregon has brought to us. I make sure I take every opportunity to educate and improve my deals. On my own I make sure I do my research and follow in others footsteps to make sure I am educated enough when making an NIL deal.
Blaire: How has education played a role in your NIL experience?
Italie: Education has played a huge role in my NIL experience. The biggest thing that I have learned was to make deals properly because NIL can get dangerous with the law if not done correctly. It's important to understand and know the laws when partnering with brands and making deals with them. I also was taught to understand my value and worth as an individual. Understanding where we stand and how valued we are to the company when making a deal is important. The type of deal and transaction can change depending on your follower count and interactment with social media. It's important that each deal you make is worth it to you and that the brand isn't selling you short and gaining more in return from you. I always try to make sure the transaction is equal and that I value myself by letting the brand know how much I charge based on my followers and content.
Blaire: If you could change one thing about NIL and how it's worked so far, what would it be?
Italie: The biggest thing I would change about NIL and how it's worked thus far is how the brands can reach out to us. I find this challenging because I have had brands in the past reach out to me on all sorts of platforms. The deals can come from email, instagram dm, and opendorse. Many emails and dms I get seem to be fake or untrustworthy. Most of the time I have a hard time determining what is real and what isn't. Opendorse is a great platform because it is real and the brand has to go through steps to verify themselves. I wish that there were a better app or platform for real brands to reach out to us, therefore we are aware that it is real and we will make an equal transaction.
Blaire: What piece of advice would you give to high school athletes as they start their NIL journeys?
Italie: The best piece of advice I would give to high school athletes as they start building on NIL would be to know your worth. NIL has been an incredible opportunity for student-athletes to build their brand based on their name, athletic performance, and social media. NIL can also be fun and enjoyable for athletes. My advice to them is to know your worth as an athlete and your value as a partner. It's easy to make many deals with brands but sometimes it can get exciting to where athletes are not making as much as they should be for their name and also working with brands that just offer them money but are not of value to the student-athlete. As a student athlete you want to make sure that you enjoy these brands and feel comfortable posting and sharing with your social media audience or fans. Be sure to make equal transactions that benefit both the brand and yourself. Most of all I encourage high school athletes to get creative with it and build your brand the way you want!