The Eccker 10 – Jake Moser
Tyler Langford | Mar 07, 2023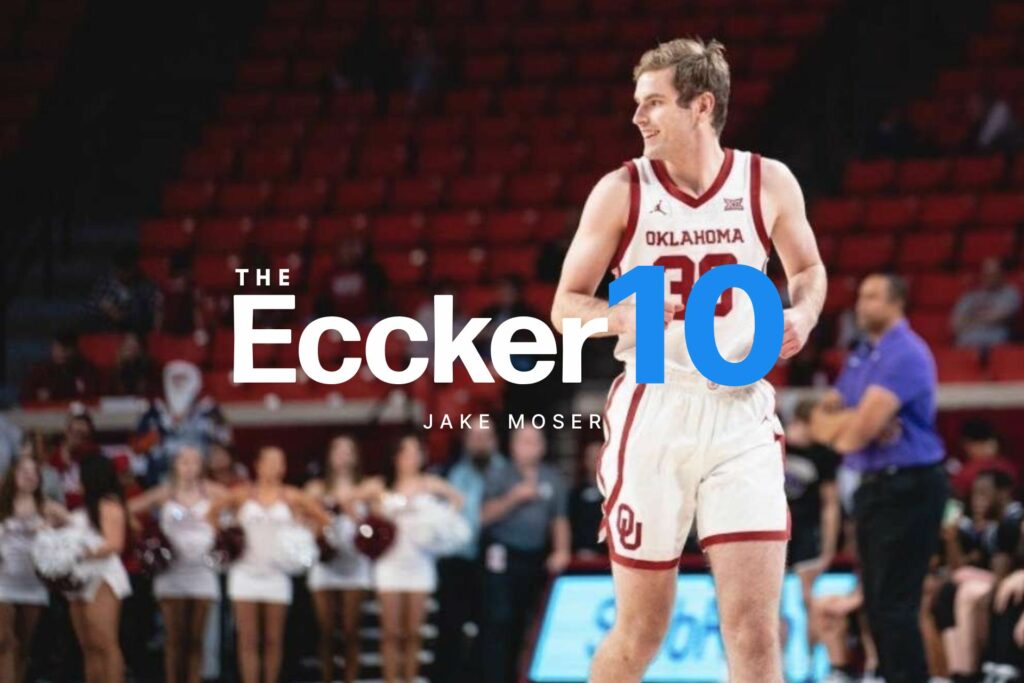 Jake Moser's view on NIL is different from that of most Power 5 athletes. As a shooting guard at the University of Oklahoma, he understands the perspective of the student athletes who are making major decisions based on NIL money in order to support their families and better set themselves up for future financial success. As the son of Porter Moser, the Oklahoma head coach with a long track record of winning at the D1 level, he understands the other side of the NIL world. That in which you have to help young men and women understand that while NIL matters, it is not the end all be all. Eccker Sports caught up with Jake to better understand what NIL means to him and why he chooses to prioritize his education and his drive to win the Big 12 over pursuing the big bucks.
10 Questions
Tyler: What is your greatest memory as an athlete?
Jake: Oh man…Honestly, I have so many of them. Most of them have come from here at Oklahoma. It's crazy because one of the best ones happened the other weekend. After we beat Alabama, I'm sitting center court, and the clock's winding down. There's ten seconds left and there's an entire mob of students almost on the court. Everyone's counting down and screaming: "TEN. NINE, EIGHT…" and I'm just in the middle of the court against number 2 Alabama, up by 30. The second the clock hits zero, everyone just storms the court. It was the coolest thing ever. It was a huge mosh pit, everyone's cheering, it was just such a great game. I was so proud of our guys for pulling through and winning and it's something I'll remember for the rest of my life.
Tyler: What is the biggest challenge you've faced as an athlete and how were you able to work past it?
Jake: The main challenge for me has been the middle of the season. Once the Big 12 conference schedule starts, that's when the schedule really ramps up. One day you're at home and the next thing you know, you're in West Virginia like I am right now…Then we'll get back Sunday, and Monday we fly out to go to Baylor. It hasn't been too much of a problem, I've had a lot of fun traveling, but the whole leadup to March Madness and the schedule from January to March gets really stressful. The Big 12 is the best conference in the country for basketball. Every game is so important and even the bottom teams in the conference are super talented. It's a conference where you can't take any days off. You're constantly battling and battling, and it's definitely an intense stretch. Other than that, everything's been great.
Tyler: Do you have any unique or hidden talents?
Jake: If you're playing me in a game of HORSE, I'm pretty darn good at the behind the backboard shots. That's one of my favorites. We also have a popcorn machine at our house and I'm really really good at cooking up homemade popcorn
Tyler: What was your first NIL deal?
Jake: I haven't done too many, but the first one was probably the Crimson and Cream deal I did, which is a collective in Norman. They did a deal with us recently where they sent us a questionnaire that we filled out and they turned them into these little athlete cards that were super cool.
"When you get an NIL deal, it feels great, but the common misconception is that you're going to get paid for doing very little. Like we talked about earlier, you have to make sacrifices for those deals so you have to make sure that you're prioritizing the right things."
Tyler: How has NIL impacted your experience as an athlete?
Jake: It hasn't had a gigantic impact on me because I've only done a few deals, but I do think it's been a pretty cool addition to my experience. It definitely does have an impact when it comes to things like recruiting top talent, though. Some schools are able to offer more when it comes to NIL than others, and some athletes are swayed by schools where they feel like they can make more money. That doesn't personally affect me, but it's definitely had an impact on recruiting.
Tyler: How do you determine which brands to partner with?
Jake: The first thing I do is make sure that it follows all the rules and regulations that the NCAA has. There are so many potential violations that can be committed, and obviously you want to avoid any violations or suspensions. There's certain things you have to make sure you run by the school. For example, you have to ask the school if you can use school logos during a brand partnership, even if it's something small like a video. You have to be really careful with all of that.
The second part is the time commitment a partnership will take. Some deals will demand more out of you than others. Some are easy and you'll only really have to do something on weekends but others will need you during time that is set aside for school or basketball. I liked the collective ones we did because we really just were doing social media posts and it wasn't a major time commitment.
I also like to think about the timing of posts for things like NIL deals. You don't want to be announcing a deal the day after losing to a rival. Timing is important because if you lose and post a brand deal the next day, people will kind of look at you like you're not taking it seriously or don't really care about winning, which is what really matters.
Tyler: How do you educate yourself on NIL?
Jake: We have people that help educate us on the topic. They'll give seminars and host meetings from time to time that can be anywhere from 20-90 minutes on all the rules that we need to be aware of, what we can and can't do, and just making sure that we're all compliant with everything we need to be. They make sure we know to check with the school before we do a deal, and to make sure that we can avoid any violations or suspensions for breaking a rule that we didn't know about. For example, one thing we've talked about is making sure you don't go against any brands that the school is partnered with. If we're sponsored by Dasani water and I go out and do a deal with Fiji water, that wouldn't be allowed. You have to be aware of little things like that.
Tyler: How has education played a role in your NIL experience?
Jake: It definitely helps me be more aware. When you're young, especially being in college, all these NIL deals always seem so great. You have to be able to take a deeper look and understand what deals are really asking. The best way Oklahoma puts it is by telling us that NIL isn't free money. If a brand is paying you, you're going to have to be doing something for them. You have to be able to understand what they want you to do, make sure it's allowed, make sure you have the time to do it, then after all that, it has to be something you're interested in.
Tyler: If you could change one thing about NIL and how it's worked so far, what would it be?
Jake: Being the coach's son, I look at it from more of a recruiting standpoint. In the future, I hope they put a cap on it. Not a heavy cap but at least to where schools can't pay guys millions of dollars. I definitely think that a lot of players deserve to make money, and it's great that they can provide for their families, but there's a lot of quality depth guys who are averaging a few points off the bench who are getting paid a ton of money to transfer and go be a rental elsewhere. It's tough to recruit when you're not offering the biggest deals and while I support paying players and helping them support their families, NIL has definitely changed the world of recruiting and how it all runs.
Tyler: What piece of advice would you give to high school athletes as they start their NIL journeys?
Jake: This may sound cliche, but I have to say it. I think that as athletes, your game should dictate how much money you make. Your priorities as an athlete should always be getting an education and getting better. If you get caught up in NIL, then what is there to do? You can't focus on that instead of getting recruited, or training to get better. When you get an NIL deal, it feels great, but the common misconception is that you're going to get paid for doing very little. Like we talked about earlier, you have to make sacrifices for those deals so you have to make sure that you're prioritizing the right things.