The Eccker 10 – Josiah Dotzler
Tyler Langford | May 02, 2023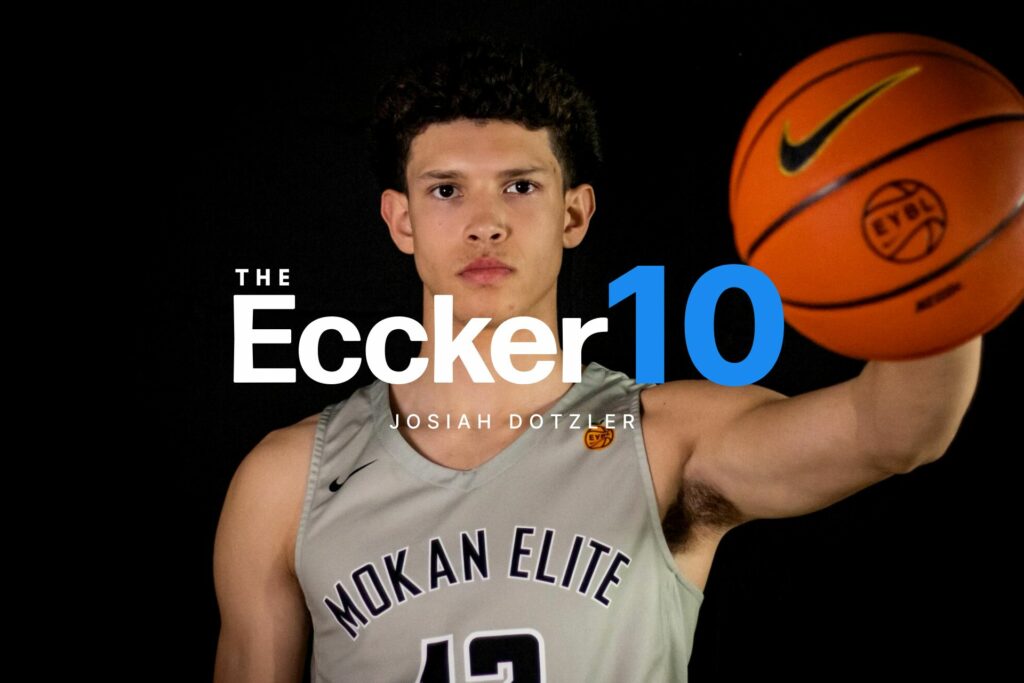 For many high schoolers, NIL is a daunting concept. It's an ever-changing landscape that has so many factors that it can be a hard thing to keep track of. For Josiah Dotzler, it was something he knew he had to explore. As the top basketball recruit in the state of Nebraska, where high school athletes can profit from NIL, Josiah has plenty of opportunities to make money from the sport he loves, but he doesn't let that distract him from his priorities. Dotzler gives us a look inside his NIL experience, and explains what he chooses to focus on when it comes to NIL.
10 Questions
Tyler: What is your greatest memory as an athlete?
Josiah: The most recent one would be winning state with my team this last year. That was definitely a high of my athletic career, and it's something I'll never forget. It's my favorite because of the people I did it with…I've been playing with a lot of these guys since third grade, so being able to win one with them was really special.
Tyler: What is the biggest challenge you've faced as an athlete and how were you able to work past it?
Josiah: My biggest challenge came during my freshman and sophomore year. It's the biggest challenge but it helped me the most in terms of my development as a basketball player. I played behind Chucky Hepburn, and I could not play the position I'd always played. I grew up playing point guard, but I had to play the wing in order to get on the court with Chucky. I didn't know how to play wing and there was a big learning curve for me. Throughout the year, I worked with my coach and was able to really become a better scorer and decision-maker. I was also able to learn a lot from Chucky. It was really difficult not playing my position but I wouldn't change anything and think it set me up for success.
Tyler: Do you have any unique or hidden talents?
Josiah: I'm actually right-handed. When I was little, my mom told me to never dribble with my right hand because she didn't want my left hand to be weaker than my right. I would never dribble with my right hand when I was a little kid so when I started shooting the ball, I didn't know which hand to use because they were pretty even. My dad and I started working on it and he felt like I was leaning more to the left so we ran with it. Since like third grade, I've shot with my left hand because of that.
Tyler: What was your first NIL deal?
Josiah: My first NIL deal was a digital player card. You could scan it with your phone and it would play a highlight video on the back. I was able to sell a lot of copies to family and friends, but also to people all around the state of Nebraska who'd been following me as I grew up.
"You have to know the legal guidelines for NIL, and Eccker Sports makes that pretty easy by keeping things updated so whenever I do a deal I'll go take a look at the website to see what the rules are."
Tyler: How has NIL impacted your experience as an athlete?
Josiah: It's definitely changed a lot of things. I have a brother who played at Creighton a while ago, so we talk a lot about my experience vs his. One of the biggest differences is NIL. It provides another opportunity for players to support themselves while also getting their name out there. For me, as someone who is just getting started, I think NIL will have a major impact on my career. For now, I'm just trying to learn as much as I can, but I've enjoyed starting the process and can't wait to see where it goes.
Tyler: How do you determine which brands to partner with?
Josiah: The first thing I think about is why I'm doing it. The why behind the deal is the biggest thing for me. After that, I try to think about how I can benefit the people around me through NIL. I'm very into charity and nonprofits. My dad started one and my brother is currently leading one. I want to be able to give a lot of my NIL money back to the community. I want to focus on not taking NIL for myself, but use it as something to help those around me. If there are ever deals available that would be with people who will help me support that goal, I'll definitely look into them.
Tyler: How do you educate yourself on NIL?
Josiah: I would watch a lot of youtube videos on NIL. It wasn't super helpful because of how fresh and new NIL was at the time. I talked to Eccker Sports, and that was really helpful. I was able to take the course and really take good notes and learn how to go about NIL. I think the best thing for me was being able to use the course to navigate NIL.
Tyler: How has education played a role in your NIL experience?
Josiah: It's definitely impacted me tremendously. Right after learning about NIL, I was able to talk to some people about how to manage my money and wisely take part in NIL. You have to know the legal guidelines for NIL, and Eccker Sports makes that pretty easy by keeping things updated so whenever I do a deal I'll go take a look at the website to see what the rules are.
Tyler: If you could change one thing about NIL and how it's worked so far, what would it be?
Josiah: Honestly, I don't think there's much I'd change. There are certainly things that will be tweaked and adjusted in the next few years but for now, I've had a good experience and wouldn't look to make any major changes.
Tyler: What piece of advice would you give to high school athletes as they start their NIL journeys?
Josiah: Stay focused. The more success you and your team have, the more NIL will come. Now that NIL is here, everyone wants to get a deal. If you put in the work, anybody can take advantage of NIL. Also, make sure to stay humble. It's not often that people my age make money from the sport they love so be humble and hope for the best.