The Eccker 10 – Katie Keogh
Blaire Prukop | Sep 12, 2023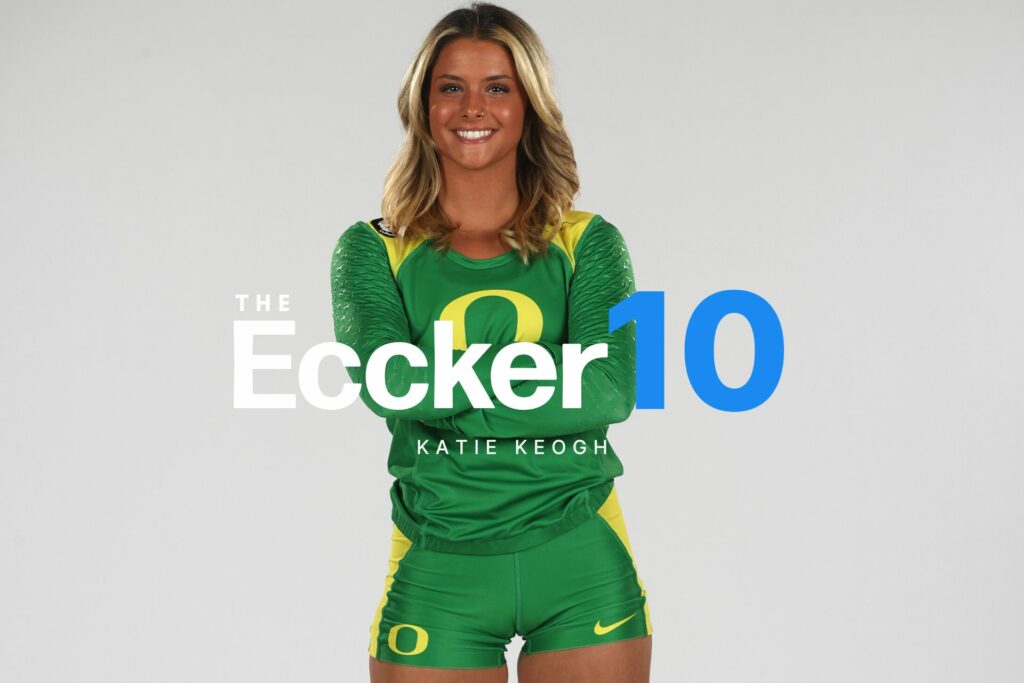 Meet University of Oregon's Acrobatics and Tumbling senior Katie Keogh, a remarkable athlete whose journey through college sports has been nothing short of inspirational. From her impressive performance in acrobatics and tumbling to her journey into the world of Name, Image, and Likeness (NIL) deals, Katie's story is a testament to her resilience, determination, and the power of personal branding. In this interview, we delve into her greatest athletic achievements, the challenges she's overcome, her unique talents, and her experiences navigating the evolving landscape of NIL opportunities. Join us as we gain insight into Katie's remarkable journey and learn from her valuable advice for student-athletes embarking on their own NIL adventures.
10 Questions
Blaire: What is your greatest memory as an athlete?
Katie: I would say my greatest memory up until this point was probably last year making it to the third round of nationals since COVID, and learning the ins and outs of the team. We came into our season ranked number five, so to climb our way back near the top and for the first time I competed three days straight in a starting position, that was a really cool experience. It was really fun!
Blaire: What is the biggest challenge you've faced as an athlete and how were you able to work past it?
Katie: My biggest challenge was freshman year. I actually had a super scary, rare story. I had my appendix taken out and then I had a cancerous tumor, which I had to have three other surgeries to remove all of it. My biggest struggle was coming back because I couldn't come back to school for all of winter term, so that was a bit tough. And definitely coming back to try and tumble again was not easy. Stomach surgery, it was not a typical recovery. So working past that, and then to flip that on the other side it showed me that, you know, I'm more than just an athlete, but also that, if you work hard enough when you get injured or if you really want something, you can get back to it. No matter what.
Blaire: Do you have any unique or hidden talents?
Katie: I guess you could say I'm a pretty good artist, which I feel like a lot of people don't know. I draw for fun which, I don't know, I always thought about doing something with it. Maybe one day! Now that I'll have more free time after this year.
Blaire: What was your first NIL deal?
Katie: My first NIL deal was with an energy drink company. I was gaining a following on TikTok from posting from the season, and then they just reached out and were like, oh, you fill out this form, and you can be a brand ambassador. So that was my first one. It was a really cool first deal because they're a pretty well-known brand.
My first paid deal was with a loungewear company, they reached out, which I was shocked about. I thought it was a fake account at first because they also have a big following and they basically said, would you be interested in talking with someone? And then I emailed back and forth to work out the details and that was the first time I asked to be paid, or to work around that because some brands don't really want to pay you.
As much as they have a really big brand, I said, you know, I also have a bigger following now. So for them, they're going to make a profit off of it, so I should too kind of thing.
"NIL has allowed me to use my brand and bring awareness around a new sport."
Blaire: How has NIL impacted your experience as an athlete?
Katie: I think especially as an athlete in Acrobatics and Tumbling, it's not the most well-known sport, so putting myself out there and putting my teammates out there that nobody would have seen before. I think it's helped me grow my platform, but also grow our sport and try and grow awareness around that.
Sharing videos on TikTok, a lot of people see our uniforms and they're like, oh, it's volleyball or it's this, and then you can kind of take that and post, you know, whatever you want and say, this is Acrobatics & Tumbling, and educate people on that. NIL has allowed me to use my brand and bring awareness around a new sport.
Blaire: How do you determine which brands to partner with?
Katie: I wouldn't partner with a brand if it's not something I think is worth posting on my social media, you know, they might have had a conflict in the past or they're in the news and you don't want to partner with them. I research them first and make sure that what they support is what I support and I make sure they fit my personality or fit what I want on my social media just as much as they want me on theirs. I'm sure a lot goes on behind the scenes for them picking people to work with, so I try to do the same. I do my research before I post something, because once it's out there, it's out there and who knows, the brand might have had something in the past that doesn't look good for me.
Blaire: How do you educate yourself on NIL?
Katie: I definitely look at other people's platforms and see what they're doing. I have friends in the sports world that have more of a following than I do, so kind of like taking notes from them and talking to them about their experiences. Oregon also has had a lot of different NIL workshops and stuff that I've learned a lot at just by going and listening. They're kind of the ones that say, you know, you have to pitch this like you're an Oregon athlete, so remind yourself that just as much as you want them to pay you and have all these NIL deals and give you free stuff, make sure that you're selling yourself, too, because your brand is important. I feel like the university does a really good job at that, especially because Oregon is so well known that they don't want athletes to be used just because they're an Oregon Duck.
Blaire: How has education played a role in your NIL experience?
Katie: I partnered with Oregon Accelerator, which is a brand new program at the school, and basically they're helping people continue to build their platforms, but also it gives you a safe place to ask questions and have someone to go to instead of just trying to do it all on your own. It's not necessarily pairing with an agency because that can get a little tricky, too. So having people that you trust at the school and they've been really helpful, I'm going to start working with them more in the fall. But I mean, it's kind of like a safe place for that. And they'll help you, take photos and help you edit things and stuff like that because they're also learning too. It's a really good program that's been super helpful for me so far to try and continue building my brand but also, I only have a year left, so to kind of look at what's after this is important, I've been an athlete for 4 years, but what's the next steps after that?
Blaire: If you could change one thing about NIL and how it's worked so far, what would it be?
Katie: It's a little bit different for me because NIL started about halfway through my college experience, so I feel like I didn't even think that Oregon was like this. I mean, I knew they were great in athletics, but, you know, there are fans across the world, right? I feel like it's worked really well but in a sense now that people are committing for certain sports because they know they can get certain NIL deals at different schools is kind of where it gets tricky with recruiting and stuff. I feel like it didn't affect me as much, but also like it's affecting where people are choosing their schools.
I feel like on the other side of what's worked for NIL is that you're getting paid for your brand. Before you could post something for a brand and they could get all this profit and then you're just getting more of a following, but I think you should also be getting some of the profit out of it as well. It's giving that to athletes who have worked hard to get to a Division I school and it's like a reward almost.
Blaire: What piece of advice would you give to high school athletes as they start their NIL journeys?
Katie: The best advice I can give is to make sure the brands that are reaching out to you, or you're reaching out to, are ones that support you as a person. Also make sure that you're working with a brand that doesn't take advantage of you. Do your research before you pair up with brands. Like I said, you never know, they might look good on the forefront, but there are things behind the scenes that you don't really know. Make sure you have that knowledge going into it and that you're not just using the brand as well, like make sure you're still working hard. I never really posted when I wasn't in a starting position, which I'm not saying you have to be, but also, people will look at that. For example, I see a baseball player posting all this stuff that he's on a team and then he gets all these comments that he hasn't touched the field, so using your brand, but also making sure you're still working hard for your starting spots.
No one's really going to pay you if you're not also succeeding in your sport. You have to succeed on both sides of it. So keep that in the back of your head going into NIL when you're starting to get a following, that those brands also look at that as well!