The Eccker 10 – Samiah Phiri
Torrey Prukop | Oct 17, 2023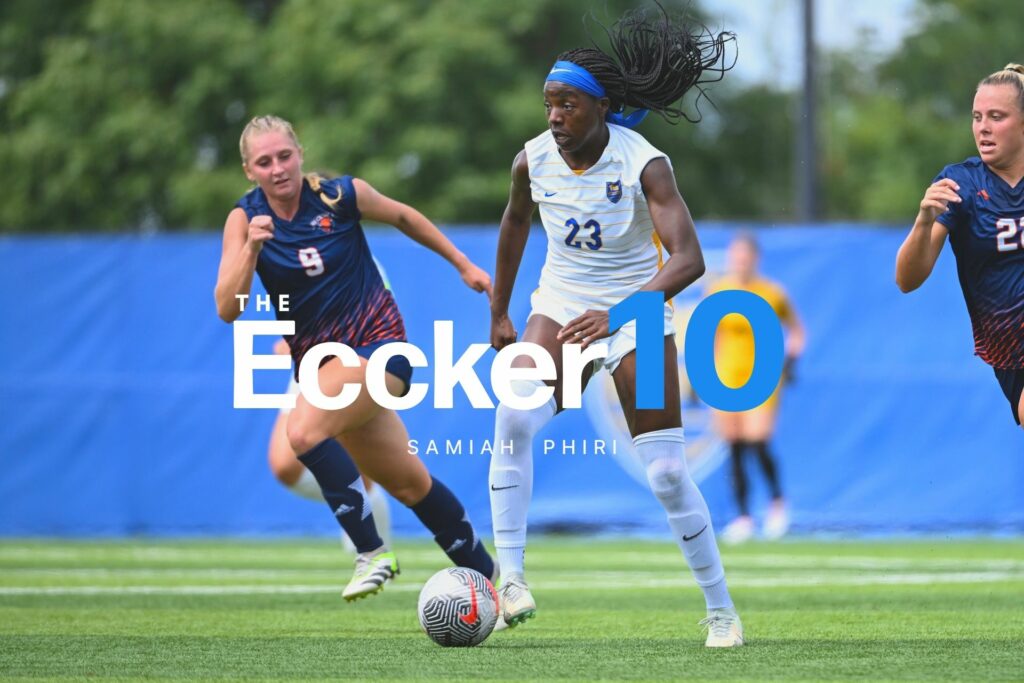 In the ever-evolving landscape of collegiate sports, student-athletes like Samiah Phiri are not only leaving their mark on the field but also reshaping the game off it. As a talented soccer player for the University of Pittsburgh, Samiah has been able to use entrepreneurial spirit in navigating the world of Name, Image, and Likeness (NIL) deals. This week, Eccker Sports had the privilege of sitting down with Samiah to discuss how the realm of NIL has seamlessly integrated into her collegiate journey. We explored how she skillfully harnessed her Name, Image, and Likeness, propelling not just her athletic career but also fueling the expansion of her personal brand, both on and off the field.
10 Questions
Torrey: What is your greatest memory as an athlete?
Samiah: My greatest memory as an athlete was committing to one of my dream schools. I committed to the University of Pittsburgh after a long process. This was one of my dream schools and it was a culmination of years of hard work, dedication, and sacrifice in pursuit of my athletic goals.The feeling of achievement and the realization that my dreams were becoming a reality was incredibly gratifying. It served as a motivating reminder that hard work pays off in the world of athletics and encouraged me to keep pushing myself to achieve my academic and athletic goals.
Torrey: What is the biggest challenge you've faced as an athlete and how were you able to work past it?
Samiah: A huge challenge that I have faced as an athlete was the decision to enter the transfer portal as I wanted something new. This was a significant step, as it involved leaving behind a familiar environment and friends to seek a new opportunity. To work past it, I had to carefully evaluate my reasons for transferring as I got help from coaches, mentors, and trusted people in my life. I did lots of research on potential schools, programs, and athletic opportunities to ensure a better fit. Ultimately, it was all about staying true to my goals and having confidence in my decision, this allowed me to overcome the challenge and embrace the new chapter in my athletic journey. And now I am at my dream school and things are going great and my decision has been the best decision that I have ever made.
Torrey: Do you have any unique or hidden talents?
Samiah: A hidden talent that I have is that I am really good at playing Fortnite. I started playing about 2 years ago and I play with my friends. I play in my free time when I am not playing soccer or doing homework and it is just something that I enjoy doing.
Torrey: What was your first NIL deal?
Samiah: My first NIL deal was with a company called Clean Energy. They are known for their clean label, certified organic smoothie in a single-serve packet, which revolutionizes on-the-go sports nutrition. This partnership allowed me to promote a product aligned with my values as an athlete, focusing on health and performance. I had a good time working with the company, and It was an exciting opportunity to not only support a brand I believed in but also to explore the new possibilities that NIL deals offer in the world of sport.
"[It's important to] understand your values, interests, and what makes you different as an athlete, and work on developing a strong online presence through social media."
Torrey: How has NIL impacted your experience as an athlete?
Samiah: NIL has significantly impacted my experiences as an athlete in several ways. Firstly, it has provided me with the opportunity to grow and promote my personal brand and reputation to gain endorsements and partnerships with companies and brands that align with my values and interests. This has not only created new sources of income but it also allowed me to build more of a diverse portfolio for my future. It has also helped me increase my engagement with my fans and followers through social media. This allows me to show my brand and inspire others through my journey as a student athlete.
Torrey: How do you determine which brands to partner with?
Samiah: I determine which brands to partner with based on a combination of factors that align with my interest and values as an athlete. First, I look for brands that resonate with my personal interest and lifestyle. If the product or service is something I genuinely use and believe in, it makes the partnership more certified. I then consider the brand's reputation and values so that the company's morals align with mine. And lastly, I assess the terms of the partnership, including the financial aspect of the deal.
Torrey: How do you educate yourself on NIL?
Samiah: I educate myself on NIL by staying informed through NCAA guidelines and peer discussions. I pay attention to any guidelines or policies issued by the NCAA as Staying compliant with their rules is crucial. Engaging in discussions with fellow athletes who have experience with NIL can provide practical insights and tips also.
Torrey: How has education played a role in your NIL experience?
Samiah: Education has played a crucial roal in my NIL experience in several ways by understanding the rules and regulations, financial literacy, and effective communication. Education has been important in assisting me in understanding the NIL-related laws and regulations in my sport. Knowing this helps to keep me in compliance with NCAA rules. It also helps me to responsibly manage the income from NIL deals. I can make informed financial decisions and future plans thanks to this information. And I can now effectively communicate my personal brand and ideals to potential partners. Building successful and real connections with brands requires clear communication.
Torrey: If you could change one thing about NIL and how it's worked so far, what would it be?
Samiah: If I could change one thing about NIL and how it's worked so far, I would push for a bigger focus on educational resources and assistance for student athletes. This would involve requiring athletes to participate in financial literacy and business education classes to assist them in managing their money and take advantage of their NIL deals.

Torrey: What piece of advice would you give to high school athletes as they start their NIL journeys?
Samiah: One valuable piece of advice I would give to highschool athletes as they start their NIL journeys is to prioritize education and preparation. Familiarize yourself and make sure that you are aware of the NCAA NIL rules in your sport and region. Start early in creating and promoting your personal brand. Understand your values, interests, and what makes you different as an athlete, and work on developing a strong online presence through social media. And be cautious with the brands and partnerships you choose. Make sure they align with your values and the image you want to portray to your audience.