The Eccker 10 – Sofia Chepenik
Tyler Langford | May 16, 2023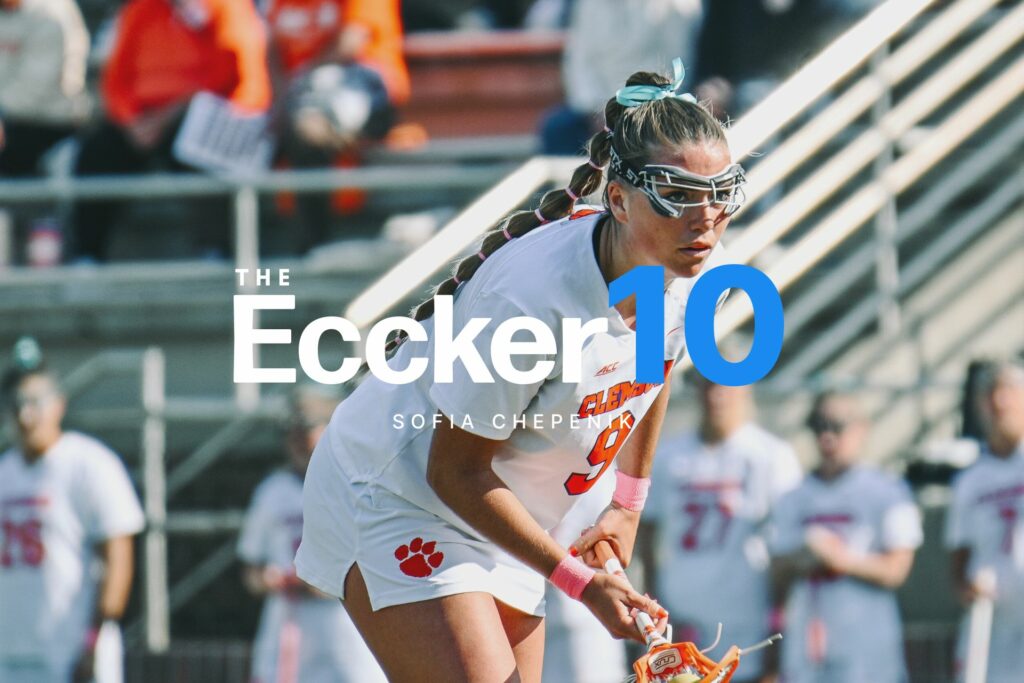 Women's lacrosse is a sport that finds itself at the intersection of two unique and fast-growing demographics. On one side, you have lacrosse, the fastest-growing sport in the country, a sport that has seen its revenue and opportunities grow exponentially in the past decade. On the other side, you have women's athletics, which have continued to grow and have seen massive revenue growth since the start of the NIL era. Suddenly, women's lacrosse players find themselves with major opportunities associated with the large growth in the women's sports world as well as in the sport of lacrosse itself.
One of the athletes at the forefront of the women's lacrosse movement is Sofia Chepenik, a freshman attacker who is not only a part of Clemson's inaugural women's lacrosse team, but one who made the ACC's all-freshman team. Chepenik recognized the value of NIL in her sport early on, and has been a vocal supporter of NIL as an avenue to increase opportunities for female athletes around the country. Eccker Sports had the opportunity to learn about Sofia's path to Clemson, her recipe for success on and off the field, and how she is using NIL to further women's athletics.
10 Questions
Tyler: What is your greatest memory as an athlete?
Sofia: My greatest memory was playing lacrosse with my two older sisters in a varsity high school game when I was in sixth grade. My sister Grace was a junior, and my other sister, Stella, was a freshman. It was just really special to me for all three of us to play attack at the same time and set one another up. And even though my sisters didn't like to pass too much, playing with them was definitely the best experience I've had, and I wouldn't trade it for anything.
Tyler: What is the biggest challenge you've faced as an athlete and how were you able to work past it?
Sofia: The biggest challenge I faced was definitely the recruiting process. I wasn't heavily recruited out of high school by the schools I wanted originally. It was very stressful. You wait so long for the day that schools can contact you. When you don't get the schools that you want, it's really easy to doubt yourself and then you start to doubt your abilities. I used it as fuel and I overcame it by becoming more determined and more committed to achieving my goals and trying to work every day to accomplish them. I spent three to four hours a day training and working on my skills. I was able to benefit from COVID and catch up to the girls my age who were ahead of me.
Going into the summer of my senior year, I was determined that when I played in front of a coach, they'd have to take a second look at me. At the end of the summer, I had ended up with offers from schools I'd originally wanted to play for. A few days before committing to another school, Clemson called me. As soon as I stepped foot on campus, I knew that it was the place that I was meant to be. It had everything I wanted in a school, it had amazing coaches, and it also provided an opportunity to be a part of an inaugural class, which is rare. I'm thankful I wasn't as heavily recruited early on because I wouldn't be the player or person I am today without that.
Tyler: Do you have any unique or hidden talents?
Sofia: I love to sing. If you spend more than three days with me, you'll learn this. I'm basically always singing in my head and wanted to be a singer before I wanted to be a lacrosse player. Maybe that's my next career…
Tyler: What was your first NIL deal?
Sofia: My first deal was with a company that helps college athletes build their resumes through a simpler platform. It was last summer and I created a quick advertisement with some other athletes to promote it. My first major deal was with a company called Loot Mobile which created a metaverse platform that gives its users hundreds of games to play. What's exciting about them is that they're releasing a lacrosse game, and I'll be the face of the release. I'm also just really excited for young girls to be able to have an online game that reflects their sport.
"I feel like NIL has made me feel a lot more valued as an athlete. Women's sports are growing and I think the opportunities given through NIL are paving the way for women to make money from their sport. NIL also helps build your brand and show the world that women in sports matter and should be valued the same as male sports."
Tyler: How has NIL impacted your experience as an athlete?
Sofia: My big thing is empowering women and women in sports especially. I feel like NIL has made me feel a lot more valued as an athlete. Women's sports are growing and I think the opportunities given through NIL are paving the way for women to make money from their sport.
NIL also helps build your brand and show the world that women in sports matter and should be valued the same as male sports. I feel like women's lacrosse has the potential the be the second most watched sport behind football. Our sport requires the highest level of skill, athleticism, hand-eye coordination, and IQ. I think you'll see a lot more people becoming really big fans of lacrosse at the collegiate level.
Tyler: How do you determine which brands to partner with?
Sofia: I make sure to align myself with products and companies that I believe in. I have the most incredible agent, Christian Addison, who I know you did a podcast episode with. He runs Addison Sports & Entertainment and when we started working together, we talked for a long time about who I am, what I believe in, and what I want to represent. He helps me make sure that every deal we discuss is aligned with those three components.
Tyler: How do you educate yourself on NIL?
Sofia: It all comes back to my relationship with Christian. He and I meet weekly to discuss current opportunities, existing relationships, and potential opportunities that have come to us. As I said, Christian is great because he knows what's important to me. As we talked about earlier, he's going to align all of the companies that he's talking to with my three main components. He also knows that the most important thing to me is being a valuable teammate and contributing to the success of Clemson lacrosse. As long as I make that my priority, NIL will work itself out.
Tyler: How has education played a role in your NIL experience?
Sofia: My education at Clemson is unparalleled to any student-athlete experience. Clemson positions its athletes in the best possible way to take advantage of NIL. In addition, my lacrosse coaches have done an incredible job bringing out my best characteristics as a person and as a player. When you have this type of support system, a lot of doors open for you and it's your job to take advantage of it. I couldn't be more proud of the university I attend and the coaches that I have.
Tyler: If you could change one thing about NIL and how it's worked so far, what would it be?
Sofia: I think you're beginning to see a lot more opportunities for women athletes opening up. If you look at the success of Angel Reese and what she has accomplished with her NIL deals, it's really inspiring. I think there's a misconception out there that women athletes might not be as good as male athletes or that we don't work as hard. I'd invite people who think that to come spend a day with me and see if they can keep up. I'd like to change the mindset that results in women not being valued as much as men in the athletic realm.
Tyler: What piece of advice would you give to high school athletes as they start their NIL journeys?
Sofia: Stay true to yourself. It's about finding companies that are aligned with your values and beliefs. Embrace who you are as a person and work hard to accomplish the goals that you set for yourself. If you do that well, everything else will fall in line.