The Eccker 10 – Tatum Stall
Blaire Prukop | Oct 31, 2023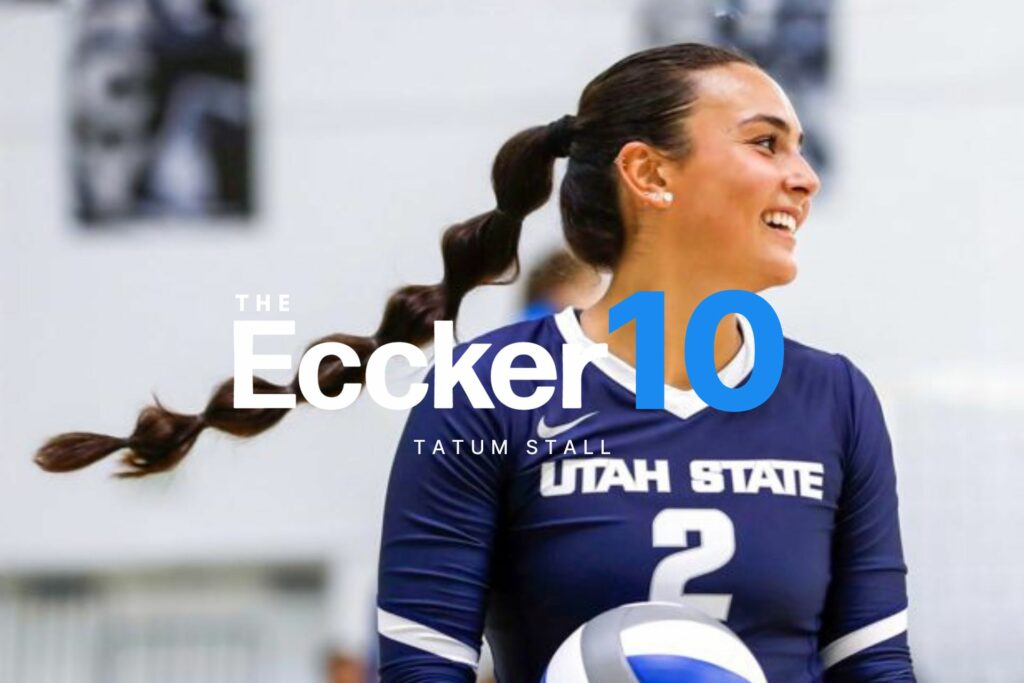 In the dynamic landscape of collegiate sports, the Name, Image, and Likeness (NIL) era has ushered in a new realm of opportunity for student-athletes. This week on The Eccker 10, we delve into the compelling journey of Tatum Stall, an outstanding outside hitter representing Utah State University's Division 1 volleyball team. Tatum's impressive on-court accomplishments are only part of her story, as she has harnessed the power of NIL to secure seven deals, ranging from local endorsements to merchandise partnerships. With a formidable social media presence, including 107,340 combined followers on Instagram, TikTok, and Twitter, Tatum Stall exemplifies the modern student-athlete who is boldly navigating the exciting terrain of NIL to build her personal brand and create opportunities beyond the game.
10 Questions
Blaire: What is your greatest memory as an athlete?
Tatum: My greatest memory as an athlete is winning the Mountain West Conference Championship in 2022! We beat all of the teams in that tournament that we lost to during the regular season.
Blaire: What is the biggest challenge you've faced as an athlete and how were you able to work past it?
Tatum: The biggest challenge I have had to face as an athlete is living up to the pressure of past successes. It is frustrating when you are playing to the best of your ability especially when everyone else expects you to.
Blaire: Do you have any unique or hidden talents?
Tatum: I sadly don't have any unique or hidden talents):
Blaire: What was your first NIL deal?
Tatum: My first NIL deal was with a long distance friendship lamp company. They sent me their products and I created one Tiktok video that went viral and I was also compensated as well.
"Post post post!!! You never know what tiktok will go viral and what post will blow up with likes."
Blaire: How has NIL impacted your experience as an athlete?
Tatum: NIL has only impacted my experience in a positive way because it allows athletes to build their brand and get real life experience in the business world before they graduate!
Blaire: How do you determine which brands to partner with?
Tatum: The brands I work with have to align with my everyday life, morals, and something that I know I love or will love. 
Blaire: How do you educate yourself on NIL?
Tatum: I educate myself through social media! I have self taught myself how NIL works and how to build a brand due to the help of my marketing major but I find athletes that have similar likes and morals and I look into their NIL deals and see what that company is looking for and then it just continues to a domino effect!
Blaire: How has education played a role in your NIL experience?
Tatum: I am currently majoring in marketing and I graduated this December. My education has allowed me to understand the behind-the-scenes of companies and their partnerships and it has prepared me with sales calls, follow-up emails, and professionalism that is extremely helpful when building a brand!
Blaire: If you could change one thing about NIL and how it's worked so far, what would it be?
Tatum: I wish that bigger companies were more open to working with mid-major schools! Being in a mid-major school and talking to companies, it just feels like there's an automatic shut door because we aren't Power 5. 
Blaire​: What piece of advice would you give to high school athletes as they start their NIL journeys?
Tatum: Post post post!!! You never know what TikTok will go viral and what post will blow up with likes. No one wants to be made fun of for "acting" like an influencer but that is how people have made successes for them during and past college!