The Eccker 10 – Terian Williams
Tyler Langford | May 30, 2023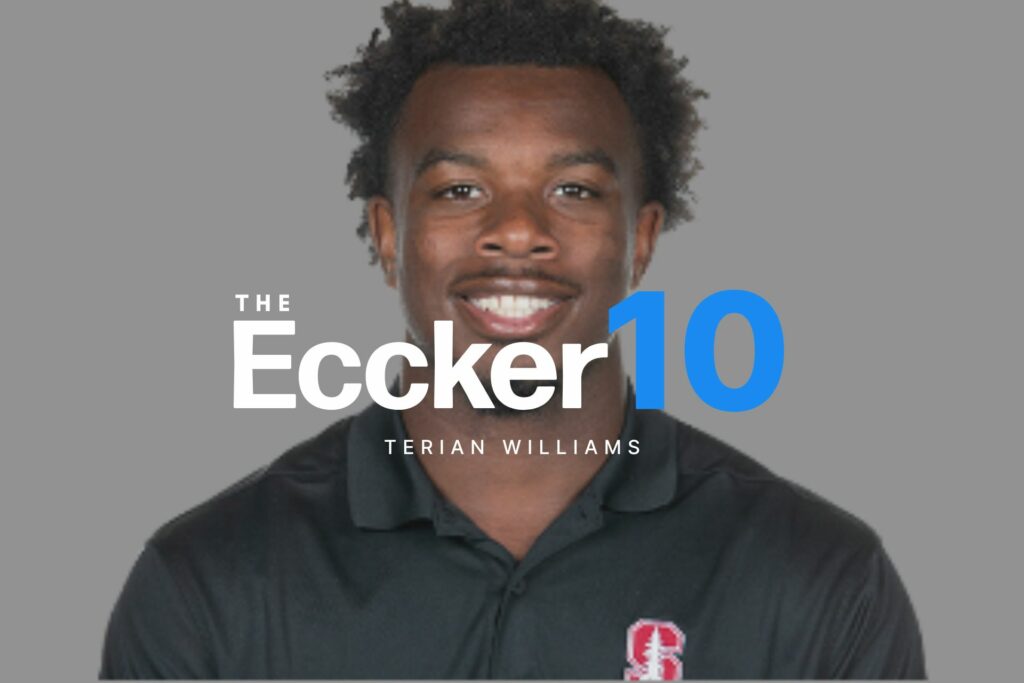 In many ways, Stanford DB Terian Williams exemplifies what it means to be an NIL athlete. Coming from a background of marketing and business experience, he was able to hit the ground running at an impressive pace during his freshman year at Stanford University, one of the top academic institutions in the country. While balancing a Stanford education and a power five football career, Terian has found time to become one of the top NIL athletes in the nation. Eccker Sports had the opportunity to catch up with Terian and learn more about his journey to Stanford, the pits and peaks of his athletic career, and how he's been able to succeed in NIL at such a high level.
10 Questions
Tyler: What is your greatest memory as an athlete?
Terian: My greatest memory? I have three so I'm going to quickly speak on 1all three of them. My first one was when Coach Shaw called me to tell me my application to Stanford was approved. We go through an admissions process here and it's not like we can easily get into the school. That was a nerve-racking time. Waiting on the acceptance was hard but when I got that call, it was an amazing moment.
Another time was my sophomore year. It was the third or fourth round of the playoffs. I was going against Marietta and both of our teams had a total of like 20 power five players on the field. I'm the only sophomore on our defense then, and I picked off their five-star quarterback, which kind of jump-started my recruitment. After that game, things blew up for me. That was a good memory.
My other one would be my senior year. We went to Rome (GA). We were the number 4 seed. Everybody was down there. They were the number one seed, hadn't had a loss at home in the playoffs, and all this other stuff. We went in there and won the game 27-23. It was just a good moment with my senior team, being able to lead them into that environment.
Tyler: What is the biggest challenge you've faced as an athlete and how were you able to work past it?
Terian: In my junior year, I injured my ankle in the first round of the playoffs. I was the star player, our game plan was to put me on offense and defense, and I controlled the secondary. To get hurt in the first quarter and not be able to play with my team and see them lose was probably my hardest experience because you work out all summer and fall and do everything together. Then you get hurt and you can't play with your team, can't fight with your guys, and you have to let them lose. That was a tough experience for me.
Tyler: Do you have any unique or hidden talents?
Terian: I'm as good at soccer as I am at football. Soccer was my first sport, I love soccer and I'd have to say that's my hidden talent. Not many people know I played but I love the sport.
Tyler: What was your first NIL deal?
Terian: My first NIL deal was with ALFA clothing. They're the clothing line that provides my suits and clothing, they make sure I'm suited and booted any time I go out. Anytime you see my suit or my outfits, I've got the ALFA clothes on and I appreciate everything they do. It's more of a partnership with them, it's a team effort.
"You have to know the legal guidelines for NIL, and Eccker Sports makes that pretty easy by keeping things updated so whenever I do a deal I'll go take a look at the website to see what the rules are."
Tyler: How has NIL impacted your experience as an athlete?
Terian: NIL has given me the platform to give back to the community early on. It's also allowed me to build relationships with various companies, people, community leaders, and even celebrities. Being able to build those relationships from such an early stage is great. A lot of people look up to college and pro athletes so being able to do this now and have the platform that I have as a freshman is a huge blessing. NIL has given me athletes the option to do that. It's what you do with that opportunity that matters.
Tyler: How do you determine which brands to partner with?
Terian: I always research the brands that I partner with. I make sure they follow the same core values and beliefs as me. The mission statement has to line up with what I have going on. I'd never endorse anything I don't see myself using or believe in.
Tyler: How do you educate yourself on NIL?
Terian: At Stanford, we have an NIL class that helps educate student-athletes on the benefits and pitfalls of NIL. I also do my research. We athletes talk. We know what each other has going on but we also know it's something new. A lot of companies are learning. I've had some companies ask me questions. It's new and you learn as you go but I have been able to use the marketing skills that I learned from an early age as well as my business skills.
Tyler: How has education played a role in your NIL experience?
Terian: It's played a major role. As I said, marketing and business are something that I took a lot of in middle school and high school. It's translated to what I do now in terms of marketing and branding myself on the business side of things. I also have to be able to handle companies and know how to brand and represent myself, how to speak to companies, and how to go into a room and make myself known. The education peace has played a big role in my NIL.
Tyler: If you could change one thing about NIL and how it's worked so far, what would it be?
Terian: I would want more education for some people. Not everybody has the same knowledge I do from a marketing and business standpoint. My mom is a marketing teacher, she knows taxes, financial literacy, and other important aspects of this world. A lot of people don't understand that stuff so more education on taxes and financial literacy as well as some education on how to properly invest your money while also giving back to the community.
Tyler: What piece of advice would you give to high school athletes as they start their NIL journeys?
Terian: Find a mentor. Find somebody who is heavy in the NIL atmosphere now. It's good to always have a mentor to help you navigate things. It's something new and you don't want to get taken advantage of. Find someone you trust and don't be afraid to reach out to a company. You're going to get some no's and you'll get some yes's, and you'll have to negotiate. Brand yourself and understand that everything you do represents your brand.