The Eccker 10 – Gabe Jeudy
Tyler Langford | Feb 21, 2023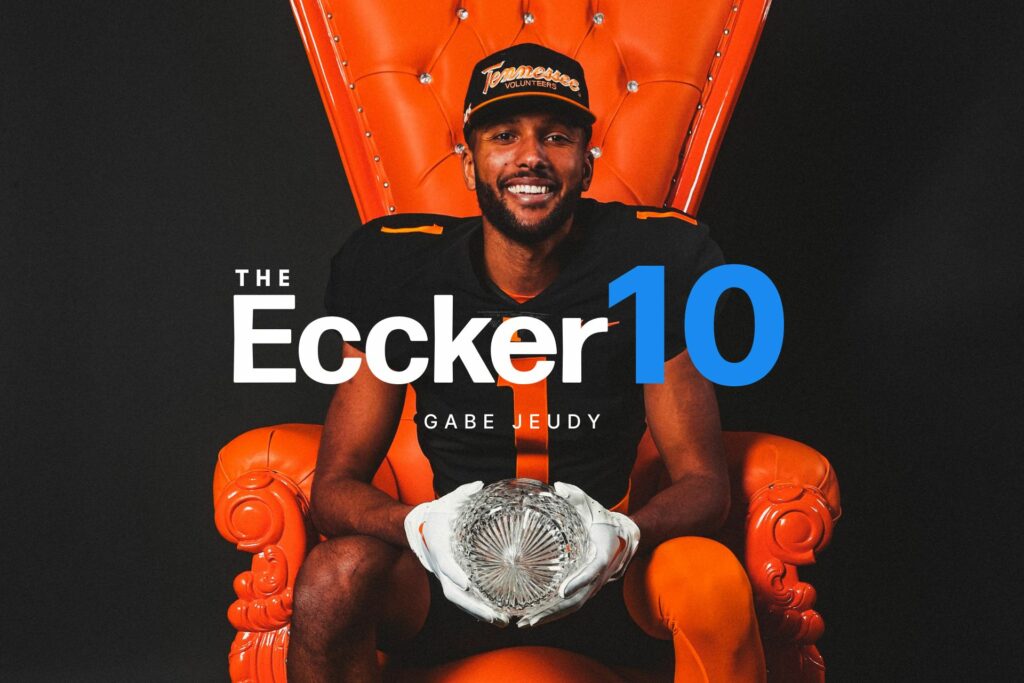 Tennessee took the college football world by storm with a breakout 2022 season that they capped off with a dismantling of the powerhouse Clemson Tigers. Part of their success has related to their ability to recruit the in transfer portal just as effectively as high school athletes. One new Tennessee Volunteer looking to make a big impact in 2023 is Vanderbilt graduate and BYU transfer Gabe Jeudy.
Jeudy began his career as an early enrollee at Vanderbilt before NIL existed at the college level. Now, as he enters his final year in college, he is hoping to cap off his career with the Tennessee Volunteers with a season that puts his name at the top of NFL draft boards. Eccker Sports had the opportunity to talk with Jeudy about his journey from an early enrollee to a veteran in the college football world as well as how he balances prioritizing the NFL with finding NIL deals that are the right fit for him.
10 Questions
Tyler: What is your greatest memory as an athlete?
Gabe: Either winning my first bowl game this past December or getting my first college scholarship offer. When I got my first offer it was really exciting. You hear a lot of stories about a lot of different guys getting scholarships so when I got pulled out of class for my first, that was great. Having all my scholarship offers be FBS was big because it made it easy knowing that I was going to be able to go to school for free and not have to worry about my family and such.
Tyler: What is the biggest challenge you've faced as an athlete and how were you able to work past it?
Gabe: Honestly, the biggest challenge as an athlete was not getting to play as much as I thought I would my freshman year, when I redshirted. Because of the NCAA's new rule at the time, I was able to play in 4 games and still redshirt that season. That was good but with me having come in as an early enrollee at that time in my career at Vanderbilt, I thought that would give me the leg up to be able to go start as a freshman. They brought in a couple of transfers and at the end of the day I realized what my role was going to be, but it was ok. I was able to conquer it by taking the steps to get better. I wasn't on the field because I wasn't the best player, so I understood that for me to be able to get on the field, I had to become a better player. That doesn't just come with playing at practice, but it's your overall body of work. You've got weight room training outside of it, having to stay healthy, and all of these things really piggybacked into a much better 2020 season.
Tyler: Do you have any unique or hidden talents?
Gabe: I speak fluent Russian. My mom is Ukrainian so she taught me how to speak Russian from a young age because it was the language she spoke growing up in the Soviet Union.
Tyler: What was your first NIL deal?
Gabe: I don't really remember what my first deal was, but I can tell you that the most deals I did with a group was at a place called Cougar Connect at BYU. It involved just showing up to weekly podcasts, or showing up at various places or events. It wasn't really anything of great monetary value, but it was good to get out in the community and get to know the fans.
"So I came into college when there wasn't NIL. Honestly, it hasn't impacted me as much as others because I'm in the latter half of my career and I understand that NIL is cool but if I make it to the NFL, I'll make way more money."
Tyler: How has NIL impacted your experience as an athlete?
Gabe: So I came into college when there wasn't NIL. Honestly, it hasn't impacted me as much as others because I'm in the latter half of my career and I understand that NIL is cool but if I make it to the NFL, I'll make way more money. It's been nice though. Going to a bigger program does bring bigger prowess, so the NIL deals definitely do come in but I have a bigger goal in mind at this moment in time. I can't divert too much of my time elsewhere because I want to be able to go to the draft next year. I make sure to pick and choose the right places for NIL that might not be the most time consuming but have a good deal for me to be involved in at the end of the day.
Tyler: How do you determine which brands to partner with?
Gabe: I look for deals that will uphold or improve my brand image. Monetary value also comes into effect because if it's something that is asking for a lot of my time but doesn't hold much monetary value or give me many tangible goods, then it's hard to see where I'm benefitting…unless it's something that contributes to helping the community, which I definitely always want to be a part of. But that's really what I go for as well as things I'm actually interested in because when you try to do NIL things that aren't really in your wheelhouse, it's hard to be able to actually want to go out and do it.
Tyler: How do you educate yourself on NIL?
Gabe: You just have to make sure that you understand the contracts that are being sent out to you. That means going over it with people who you trust or people who have a background working with contracts. At the end of the day, I'd say that you should also read up on the NCAA websites and stuff like that to make sure that you're collecting the right type of data and information for your deals.
Tyler: How has education played a role in your NIL experience?
Gabe: I know what I can do and what I can't do. I'm not going to act like it dictates my whole life but I know what's good and what's not which is really important.
Tyler: If you could change one thing about NIL and how it's worked so far, what would it be?
Gabe: I'd make sure that NIL starts the first year after college because I feel like some people do get an outrageous amount of money, and they might not even play when they get to college so you might end up dishing out a lot of cash for no real reason. Also, guys at that age haven't really proven themselves. You can be a five star coming out of high school but there's a lot of guys that were rated higher than me who watch me play. That's the thing I'd change. I'd also have the school be able to work with you on NIL. I know it's illegal by NCAA rules but let's be honest here, I spend 80 hours of my week at the facility and I'm doing everything. They should be able to help me.
Tyler: What piece of advice would you give to high school athletes as they start their NIL journeys?
Gabe: Just make sure you're not choosing the school that gives you the most money but the school that will be able to develop you on and off the field. This also involves your presence in the community. A million dollars sounds good and all but if you run out the next day, what did that school really give you?