The Eccker 10 – Nate Van Zelst
Tyler Langford | Jan 17, 2023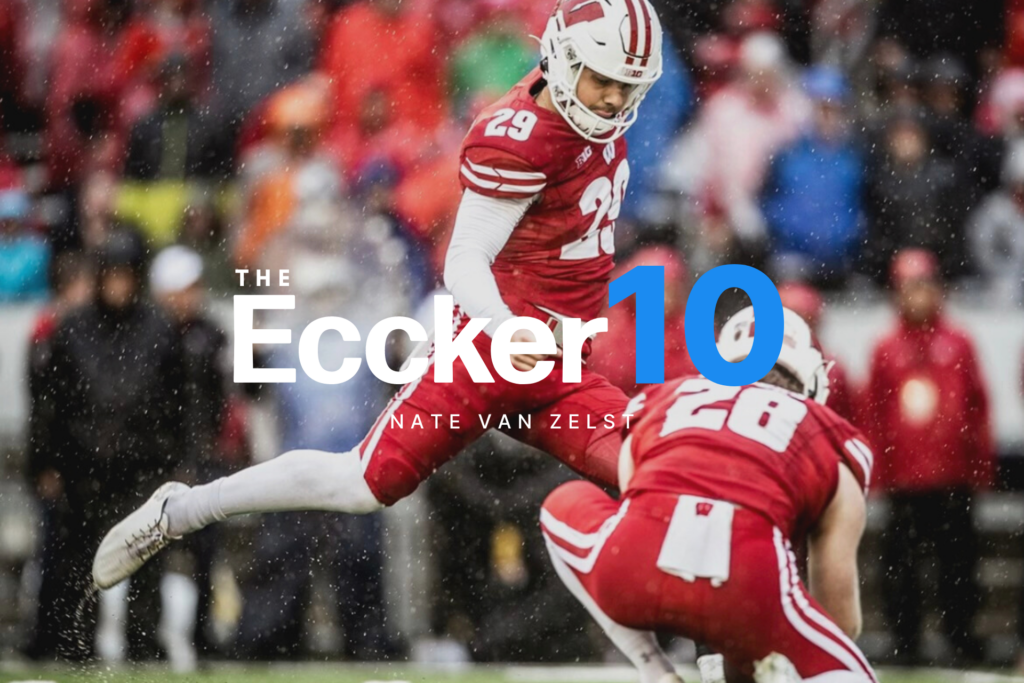 Kicking is as much mental as it is physical, and the perseverance required to put a tough missed kick behind you is something not every athlete can do. For Wisconsin Kicker Nate Van Zelst, perseverance has been one of his best traits. From coming into high school as an already highly touted kicking prospect to going through recruitment during Covid, Van Zelst is no stranger to adversity in his athletic career. Eccker Sports caught up with Nate about his experience working through that adversity, being the starting kicker at Wisconsin, and the emphasis he puts on using NIL for good.
10 Questions
Tyler: What is your greatest memory as an athlete?
Nate: I'd have to say there's a couple. The first great memory would have to be winning state my sophomore year. You grow up with these guys, you've hung out with them since kindergarten, and then you're in class with them everyday, which separates it from the college level. Winning a title with guys you've grown up with was pretty special.
The other would be making my first start against New Mexico State. I just remember after the game thinking about everything I've been through in my life and just how good it felt to see all my hard work pay off. Seeing my family after the game was cool too. Thinking back on all the hours I've put in and then having that all come to fruition was pretty cool for me.
Tyler: What is the biggest challenge you've faced as an athlete and how were you able to work past it?
Nate: I think the biggest challenge was recruiting in my class during Covid, because as a specialist, a lot of the recruiting happens at in-person camps because coaches want to see kickers in person. Not being able to have that from Junior to senior year was difficult because recruiting was all based on film and it's pretty easy to manipulate film and coaches know that. This caused a big delay in recruiting for specialists. With the Covid year, schools also didn't know how many spots they'd have so everything got pushed back and I didn't know if my top schools would have a spot for me. That period was definitely the biggest challenge of my athletic career, but I was able to work through it by being clear with coaches about what I was looking for, and making sure that they were transparent with me was important. Having open conversations about their programs, Covid, and roster spots, and keeping in touch with them consistently helped me get through that.
Tyler: Do you have any unique or hidden talents?
Nate: Oh man, that's a tough one…My family says I have a really good opera voice. I guess they've talked about it before and it'll come out every now and then but I think that'd have to be my unique talent.
Tyler: What was your first NIL deal?
Nate: It was with the Varsity Collective. We had a meeting with representatives from the collective and they pretty much laid out how it was going to work, and broke the payments down into 2,000 increments. The first thing was an Instagram story post tagging the Varsity Collective, and posting something about them. The second increment was from signing balls, and then I'm not sure what the third one will be.
"If you maximize your performance in the classroom and on the field, NIL will come. Prioritize the right things and NIL will come with it."
Tyler: How has NIL impacted your experience as an athlete?
Nate: I think obviously being able to capitalize off the hard work you do is huge and not necessarily for me, but for some of the bigger names out there, it's their brand and they bring in a lot of money to schools, and I think they should be able to make money off that and capitalize off it. I know it's life changing for a lot of people who know, especially walk-ons because that money can go towards tuition and help them get through school. Having extra money is always a good thing.
Tyler: How do you determine which brands to partner with?
Nate: To partner with a brand, it would have to be something that aligns with my values. For instance, if it was a training company I'd have to make sure I actually like the product and would use it. I don't just want to promote something to make money, I want it to be useful for other people and I want it to have a good meaning behind it. I'd also want to partner with a brand that does greater good for the community, so I've kind of been looking for something like that. Even if I don't make money, I want to promote things that will help others around me, especially in the Madison community.
Tyler: How do you educate yourself on NIL?
Nate: I've done a lot of research through Google and by keeping up with some deals some of my teammates have made. We also have people whose primary job is to educate us on NIL within our football program. We also have various other resources, can meet with those people any time, and also have multiple required meetings throughout the year that kind of lay out what changes have happened. It helps us know what NIL really means and how we can capitalize on NIL to the best of our ability. Using the resources we have within the building has been the biggest for me. It's huge because at the start [of NIL], nobody really knew what was going on so having those people and conversations really gave us some good clarity on the topic.
Tyler: How has education played a role in your NIL experience?
Nate: I think the biggest thing for me would be staying away from direct messages I've gotten on Instagram. I've gotten some somewhat sketchy DM's and I can go to people in our facility and ask if it's legit. Avoiding some of the scams, so to speak, is huge because obviously, companies want to maximize their profits too. It's important for me to make sure I'm staying away from people who don't align with our values as a program and to get as much help as I can from those resources.
Tyler: If you could change one thing about NIL and how it's worked so far, what would it be?
Nate: I don't know if I'd necessarily change it, but I've always been skeptical about NIL in recruiting. I'd want more clarity in how it actually works within recruiting. I'm not sure I agree that it's fair for some schools that have such a big collective versus other schools to be able to bring commits in just from NIL. I think it'll cause athletes to commit to an amount of money instead of the program or coaching staff, which is what college football has been about forever. You commit to a program that aligns with you, and I don't want NIL to change this in the future.
Tyler: What piece of advice would you give to high school athletes as they start their NIL journeys?
Nate: I would say that first, just do the research about what NIL actually entails. Second, find something unique about yourself that will attract people who want to use you for NIL. Stand out and figure out what makes you unique. The best piece of advice I can give is that NIL comes with hard work. You'll maximize your NIL when you maximize your play on the field. Here at Wisconsin, it's school, athletics, NIL. If you maximize your performance in the classroom and on the field, NIL will come. Prioritize the right things and NIL will come with it.