Women in Sports: How Female Athletes are Navigating NIL
Brittany Zion | Oct 05, 2022
Duke Cross Country athlete, Emily Cole. Photo credit: Opendorse
When it comes to NIL deals, female collegiate athletes are setting the pace.
From Duke's Emily Cole to Division III Wesleyan soccer player Andrea Chiappetti, women's sports athletes are uniquely positioned to be top earners with many monetizing their NIL at all levels.
It's difficult to pinpoint exactly how much student-athletes are profiting. Numbers tend to be inflated and many opportunities aren't widely reported, which can make it challenging to accurately record data.
However, Opendorse, which works with over 80 Division I schools and has over 80,000 athletes on their NIL Marketplace, estimates that the NIL market has the potential to eclipse $1.14 billion next year.
Interestingly, excluding football, women's sports athletes completed 52.8% of total NIL activities – more than their male counterparts – and women's basketball, volleyball, and softball took three of the top five spots on Opendorse's platforms.
Those statistics are significant because while there is no way to have NIL opportunities evenly distributed among all athletes and all sports, it's evident that far more female athletes are taking advantage of NIL. Why is that?
For one thing, female athletes are accustomed to marketing themselves, and that's especially prevalent in sports where female athletes are often viewed as more accessible than their male counterparts.
As a senior on Duke's cross country team, Cole stated that a lack of substantive media coverage of women's sports led her to focus her efforts on her personal brand building through social media.
"As far as female athletics go, we could use more representation," she said. "I can kind of break that barrier and try and bring more people into it. It's allowing me to build this platform and brand and I'll be able to build off of that and use it for the rest of my life."
She's not the only one.
Haley and Hanna Cavinder are two of the most marketable athletes in college sports, and the University of Miami basketball stars show no signs of slowing down. The two boast an aggregate of about 5 million followers across their social media platforms and estimated earnings have ballooned into the seven figures.
On July 1, 2021 – the first day the NCAA allowed NIL activity – Haley and Hanna officially ushered in college sports' NIL era after inking a deal with Boost Mobile that featured a life-size billboard in Times Square.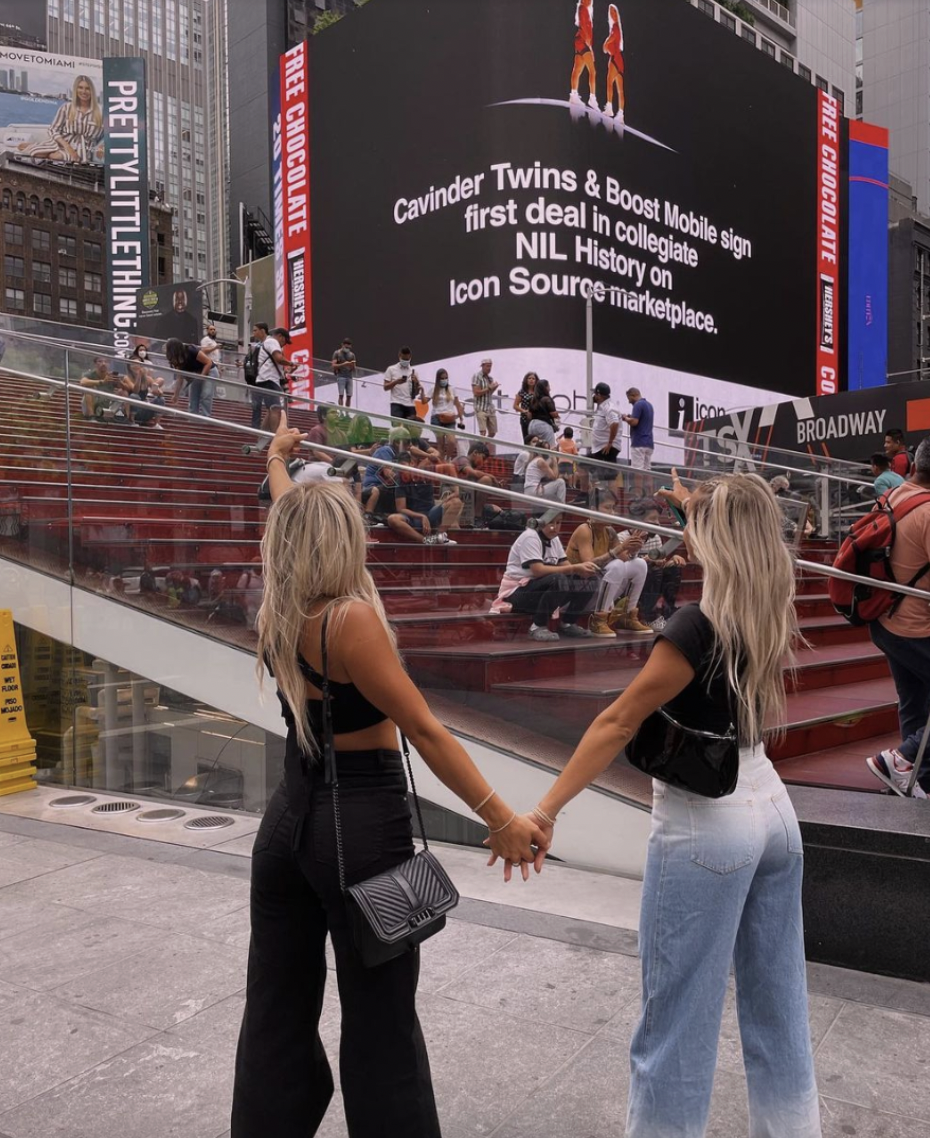 Photo credit: Haley Cavinder, Instagram
Since then, the 21-year-old sisters have landed partnerships with 31 brands, including Crocs, GoPuff, and Venmo, according to reporting by Forbes.
For many female athletes, it comes down to engagement and connection. Women are typically more adept at cultivating genuine relationships with their online followers, and that is incredibly enticing for brands looking to connect with their audience.
Athletes who are active on their accounts and regularly interact with followers drive further engagement. As those interactions and visits become more frequent, so too do the opportunities for a follower to become a consumer.
From Paige Bueckers to South Carolina's Aliyah Boston, women's basketball standouts continue to set the pace, leveraging substantial social media acumen to optimize their NIL potential.
Women's basketball ranks third only to football and men's basketball in total compensation, according to a study by Opendorse. Women's sports clear three of the top five spots in total compensation.